It's summertime! Longing for sunshine, lakeside and beaches!
The entire coastline of Lake Iseo is characterised by the presence of natural beaches, with the typical features of an Alpine lake: small shady bays, gardens overlooking the water and pebbly patches.
Besides these, there are also more large private complexes and lidos, where one can spend a pleasant day by the lake with a few extra comforts. Swimming pools, catering, beach umbrella and deckchair service, as well as evening events and music.  And this year we have some newness!
Here is the complete guide: which will you choose?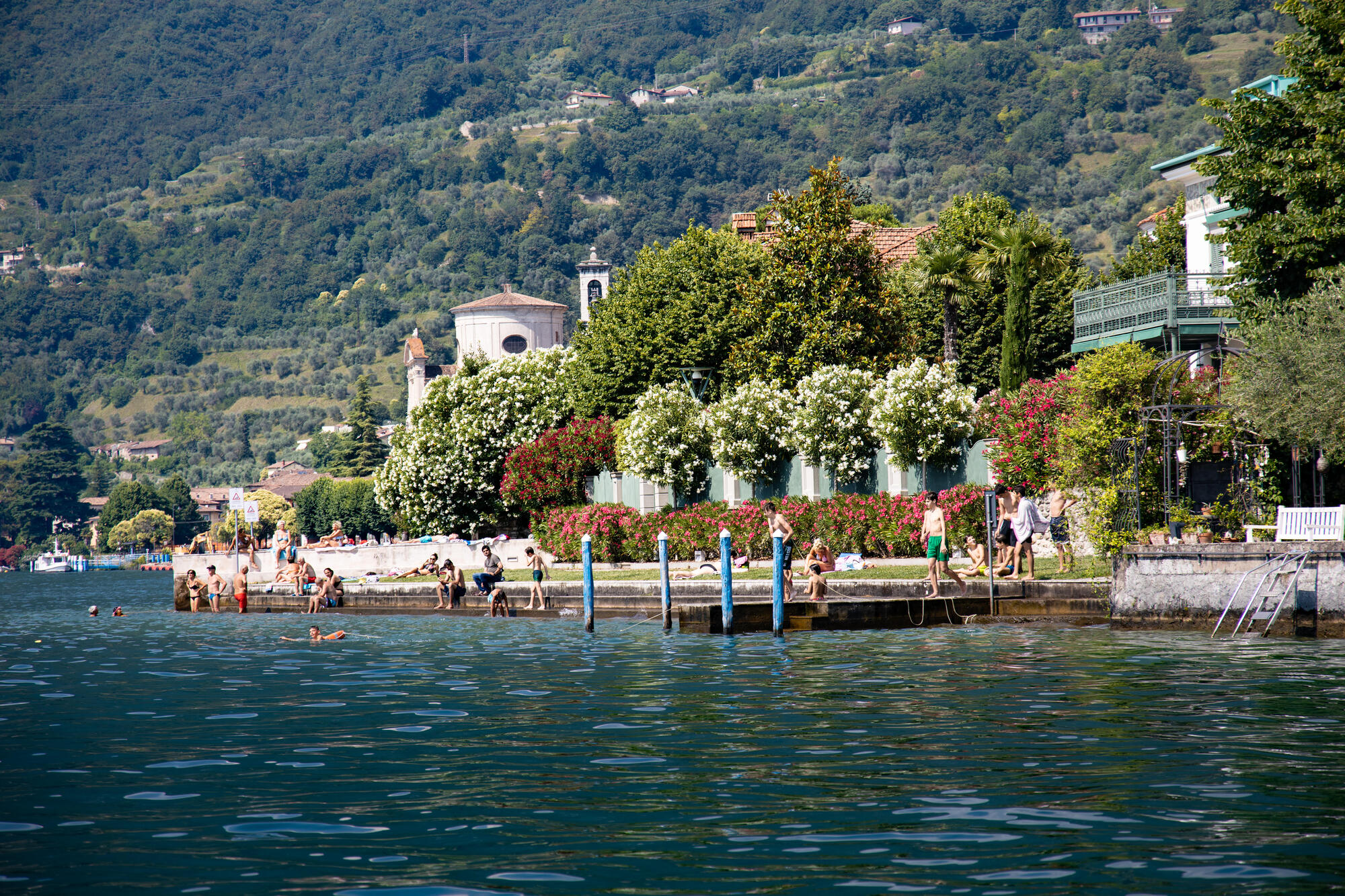 Free beach at Paratico: the floating platform at Tegattini has become a meeting place for young people for some years now. Covered in fine sand and with its two unmistakable palm trees, it is a pleasant place to take a dip, sunbathe or simply lie in wait for the sunset.
La spiaggetta di Iseo: in Via per Rovato, it is a free beach, where sunbeds and deckchairs can be hired. There is a kiosk where you can get a drink and find a place for an aperitif or a quick lunch. Four-legged friends may enter the beach too but on a leash.
The Lido: at the entrance to the town of Iseo, this is the renovated version of the historic Lido Belvedere. A beautiful green lawn with trees hosts sunbeds and umbrellas, as well as elegant gazebos, for a break by the lake from morning to sunset, aperitif also available. Admission is chargeable.
Lido Sassabanek: a beautiful lakeside park with swimming pools, two of which are heated, awaits you in Iseo. It is the ideal setting for families, with its small playground and covered picnic and barbecue area, and for sports enthusiasts (kayaking, sup, sailing, windsurfing and tennis). Entrance fee.
Free beach at Sulzano: small pebble and grass beach near the "Palafitte" in Via Cesare Battisti. The water depth increases very gradually, therefore ideal for families. Very popular during the week with locals and those who like to dive from the small harbour. Nearby is Darsena21 for a casual-chic aperitif!
Carini beach at Sulzano: at 107 Via Cesare Battisti, it is a small and very well sheltered beach. Entry into the water is not gradual and the use of slippers is recommended. The close view of Monte Isola and the shade of the poplars make the place rewarding and restful.
Beaches and small beaches on Monte Isola: very popular are the areas where you can relax on the island and take a dip in the lake. We are talking about the beautiful meadow with play area, benches and public baths at Ere and in Carzano, as well as the small beaches Serf in Sensole, Spì in Menzino and Punta in Siviano.
La Perla Sebina in Sale Marasino: at Via Provinciale 12, it is a good option for families and groups of friends. There is a grass lawn and pebble beach, with sunbeds and umbrellas for hire, a bar, toilets, showers and changing rooms, and a beautiful tree-lined area.
San Pietro beach in Sale Marasino: at Via Roma 16, in the centre of the village, it offers a fascinating view of Monte Isola. There is a parking area a few steps away.
La spiaggetta in Marone: which has become known as 'The little Tahiti of the lake' for the golden reflections in the water, it is a small public beach set in a truly scenic context.
Lido Mad Hops in Marone: at Via Cristini 16, an equipped beach with a bar, sunbeds and deckchairs that is particularly attractive and pleasant for extended stays. It is possible also to rent canoes and sup. The direct view of the Island of Loreto is priceless.
La Baia del Sol in Marone: located in the hamlet of Vello near the Vello-Toline cycle-pedestrian path, it is a lakeside terrace with a lawn solarium, ideal for a stop on the way back from a cycling tour.
La Darsena 3.0: in the hamlet of Pizzone di Pisogne, is a well-organised grass beach with deckchairs, sunbeds and parasols. The bar allows you to take a pleasant break by the lake and enjoy an aperitif, preferably at sunset! Here, four-legged friends may enter as long as on a leash or free in the dedicated dog area.
X Beach: in the lido of the historic town of Pisogne, with swimming pools, a park and a cosy and chic place for sunset aperitifs and a quick meal. Entrance fee.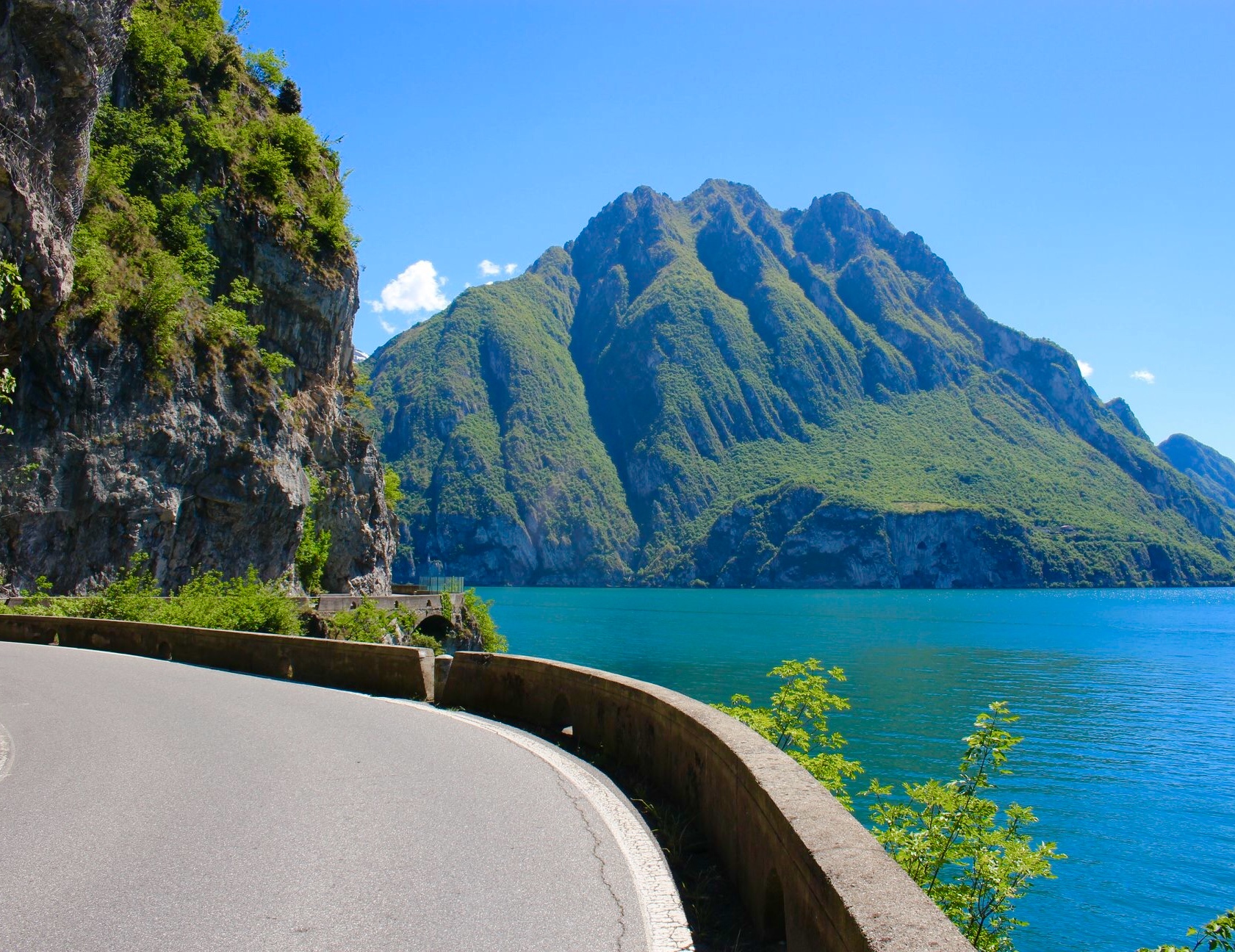 The Lovere Tourist Port: As the name already suggests: here boats find a facility equipped for docking and storage. But the complex also offers entertainment possibilities for everyone: swimming pools, sports, relaxation, fun, food and entertainment. Services for a fee.
The Bay of Bogn at Riva di Solto: close to the Orrido (gorge) of the same name, along the old coastal road, it is to all intents and purposes the most instagrammed beach on the lake, due to the evocative natural environment in which it stands. It is characterised by its crystal-clear waters, lush vegetation and spectacular overhanging rocks. It is a daily destination for numerous boats and swimmers in canoes or sup, who take a break from sporting activities, surrounded by beauty. The bay can only be reached from the lake.
Il Giardino della Doana: a small beach located near the Campeggio Trenta Passi, in the romantic setting of the village of Riva di Solto.
The beaches in Tavernola Bergamasca: two secluded nooks and crannies, for real expert cove seekers: these are the free beaches in via Sarnico, near the gallery, and the one in via Riva di Solto, not far from the Circolo Velico.
Predore's free beaches: really small, they are two tongues of land and stones along the coastal road: one near Molo31 – near the Campitino harbour in via Sarnico – and the other near the Easy bar and beer garden – in via San Rocco 2 -, almost hard to find. They are suitable for those who prefer less crowded beaches, which are nevertheless close to refreshment facilities and easy to reach for a served or take-away lunch.
Lido Cadè Holiday: The beach is located in Sarnico in Via Predore 14 and offers a kiosk-bar with deckchair hire, shower facilities and paid parking; well-maintained lawn, tree-lined area in front that makes it particularly pleasant and relaxing; lastly, it houses the La Pagoda di Eolo restaurant, a good opportunity to enjoy a lakeside lunch break with tables outside and a nice view from inside too
Lido Fontanì: also in Sarnico in Via Vittorio Veneto. With it's beautiful lawn and gradual access to the lake, it is an interesting solution both for families and for those who like to organise a day's holiday independently and simply.
Lido Nettuno: in Sarnico, along the road to Predore. At guests' disposal is an accessible jetty, five-a-side football pitch, beach volleyball and basketball courts and street food vans. An entrance fee is charged.