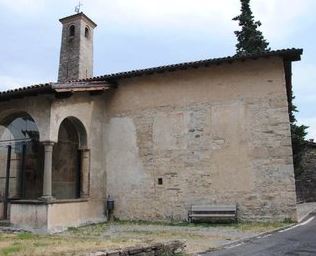 Saint George is an ancient church but its origins are unknown: quoted in a 1260 document it is listed among the 1360 ecclesiastic buildings in the area heading to the Calepio parish church. It also contains a fresco much older than the 11th century. Saint George kept its parish church title till 1587 when a new parish church led it to a slow decline.
The Saint George church has an eastward rectangular single hall ending with a semicircular apse topped by a double pitch. The original set up was more modest than that, but over the centuries the building underwent modifications and enlargements.
We are led inside through the simple façade, distinguished by a big rose window which lightens the inner building. Now we can see very many frescoes of different age and conservation. Among these, notable for its age, is the Annunciation placed on the northward wall, datable 11th century.
Are, in addition, remarkable the Lorenzo Lotto frescoes made in 1525: on the altar arch one can see Saint George on the horse while killing the dragon and, in a north side chapel visible also from the outside of the building, are depicted a Nativity with Saint Rocco and Saint Sebastiano, the Eternal Father on the vaulted ceiling and, by his side, the saints. Externally, an elegant apse, made with double blind small arches separated by thin pilasters, is partly hidden by the cottage placed at the church side and – along the north wall – by the Bertolinus Peramatus funerary monument. This is dated 1303 and made peculiar by the two color stone strips (the green color limestone from Zandobbio and the Sarnico sandstone).
Photos and text by:
Associazione di promozione sociale "Il Romanico nel Basso Sebino"
www.romanicobassosebino.it