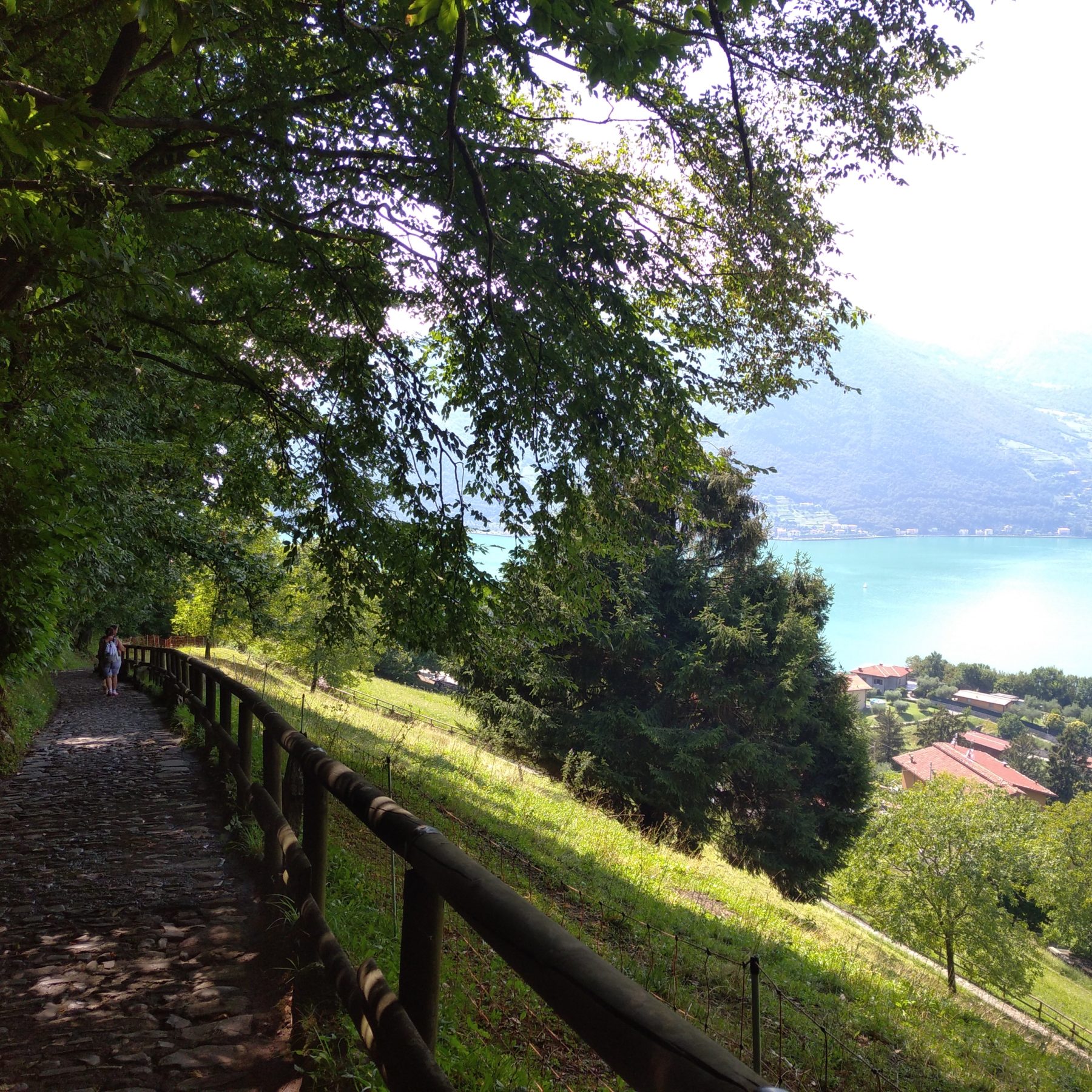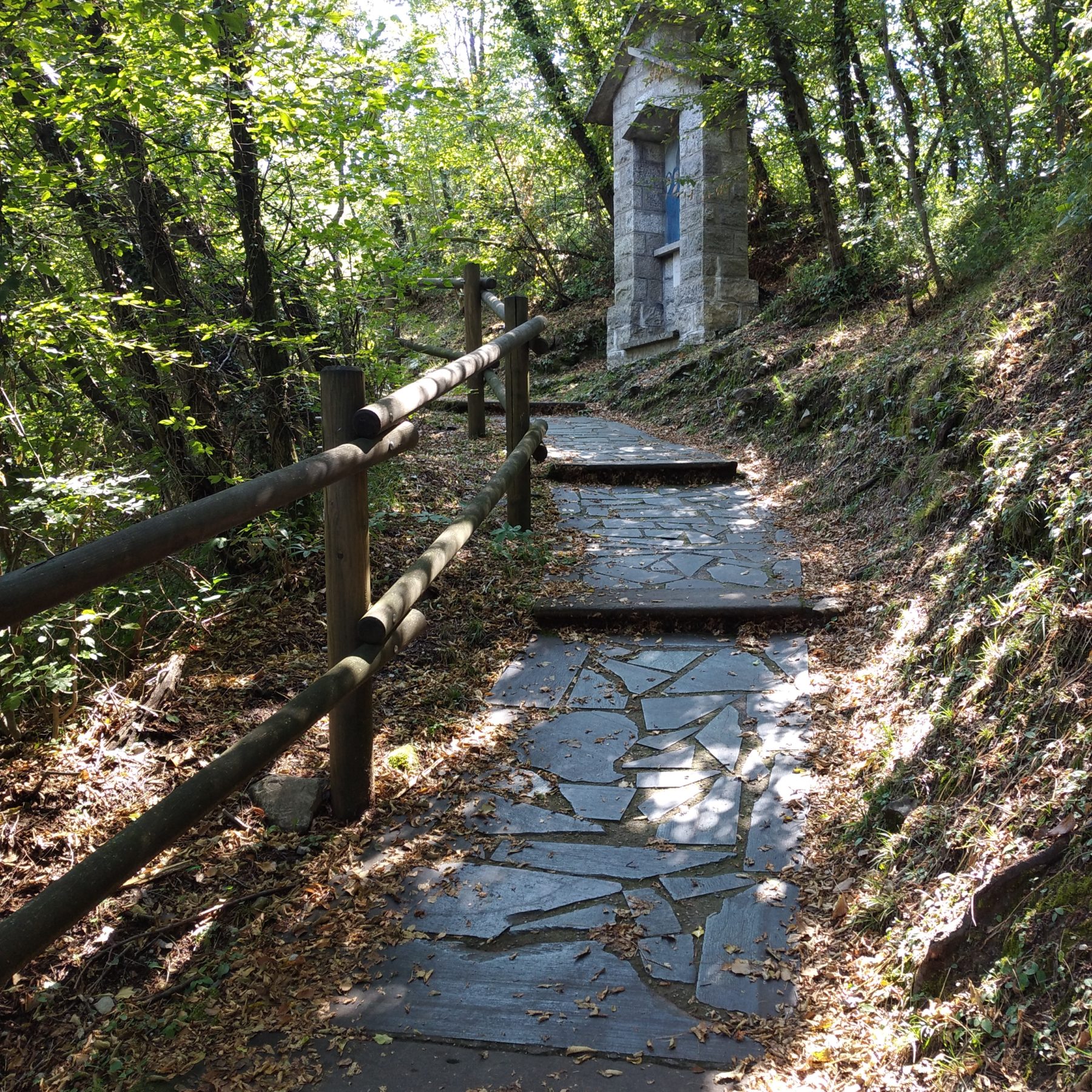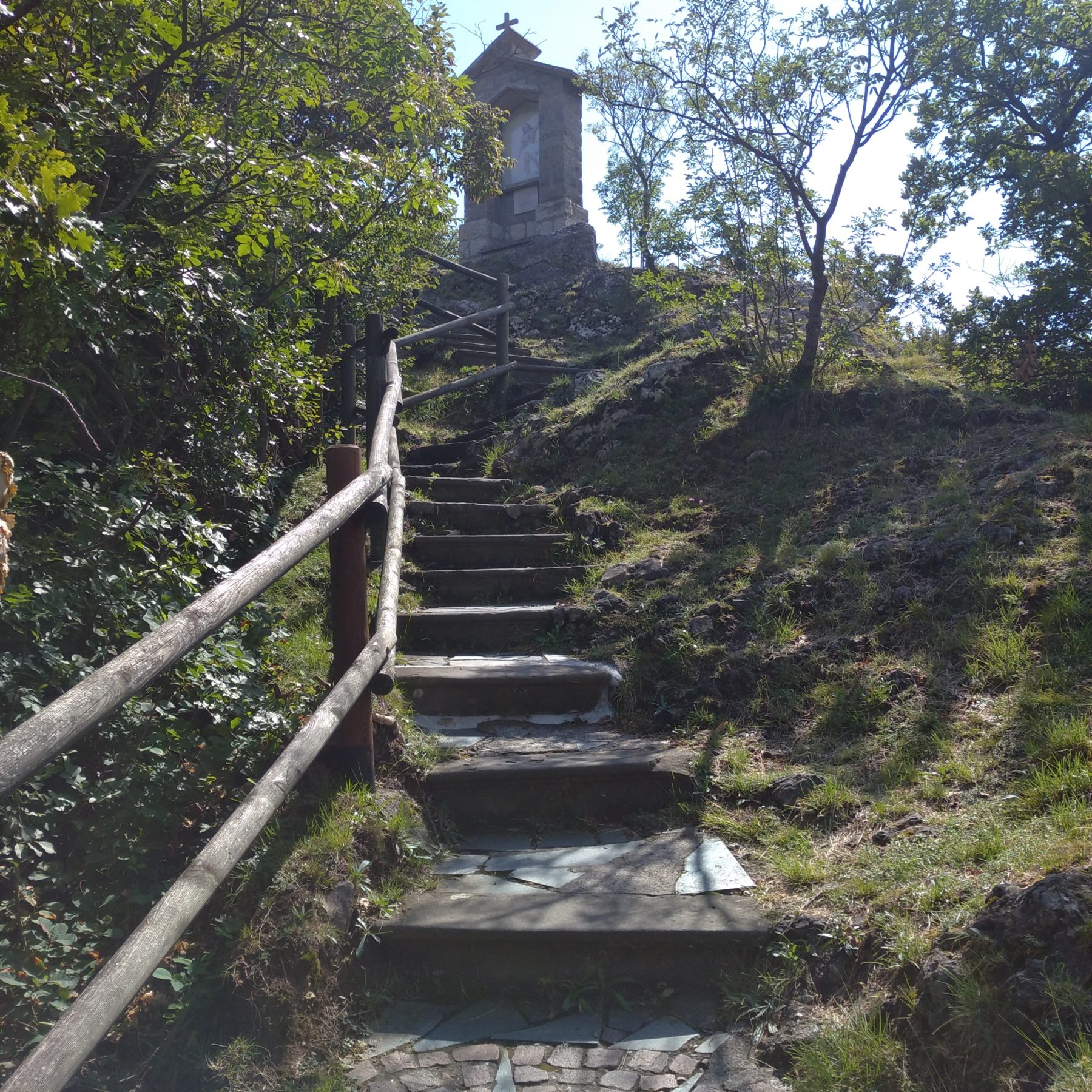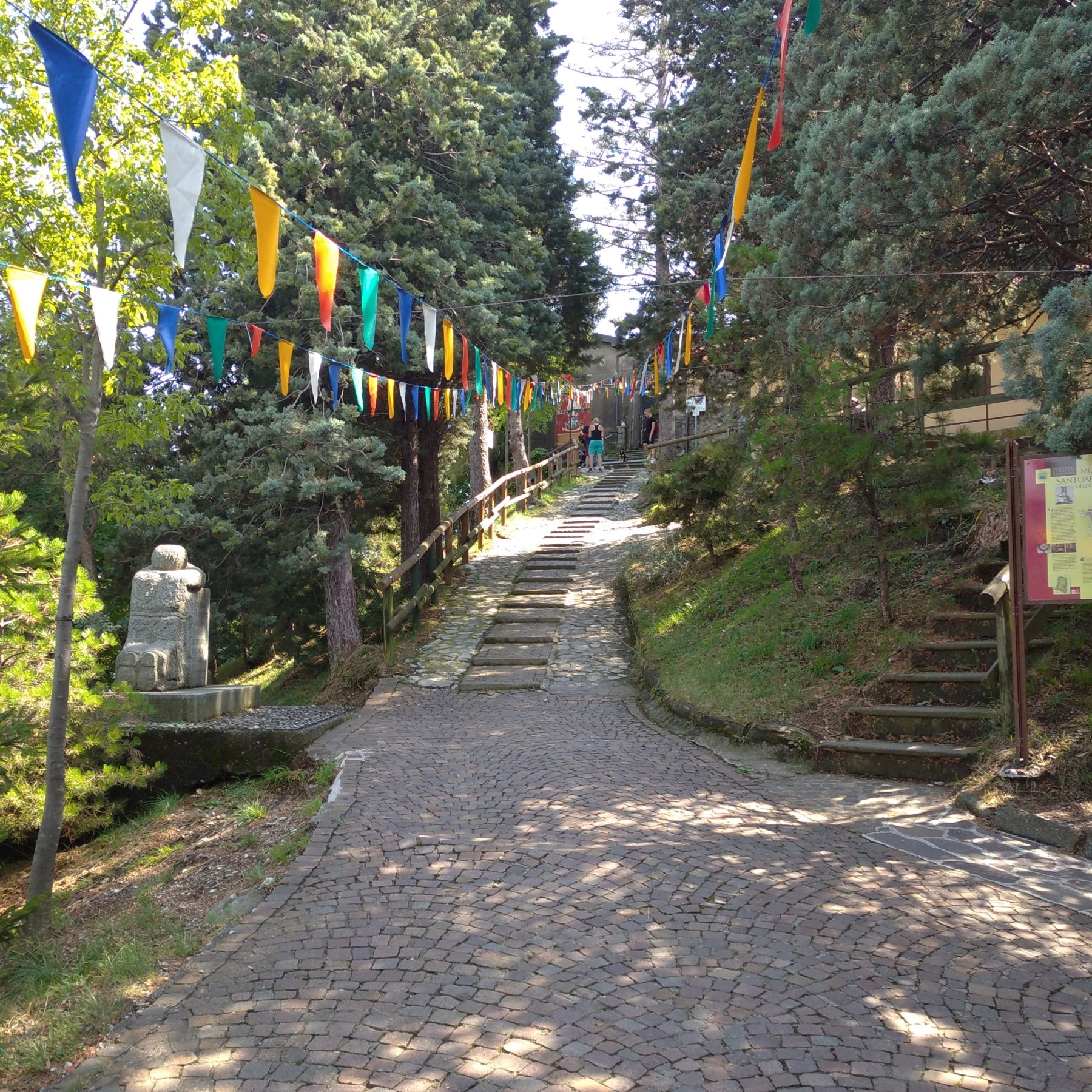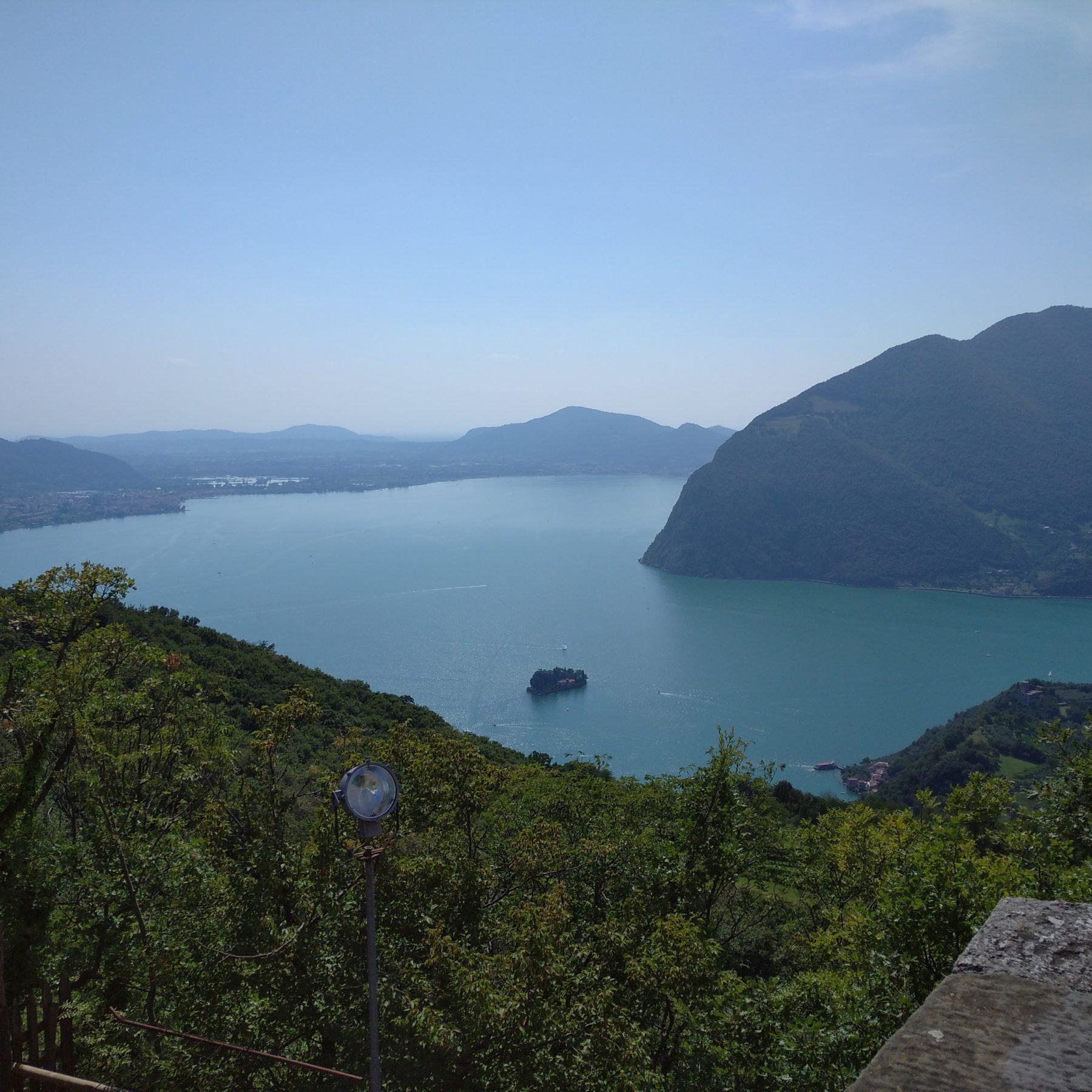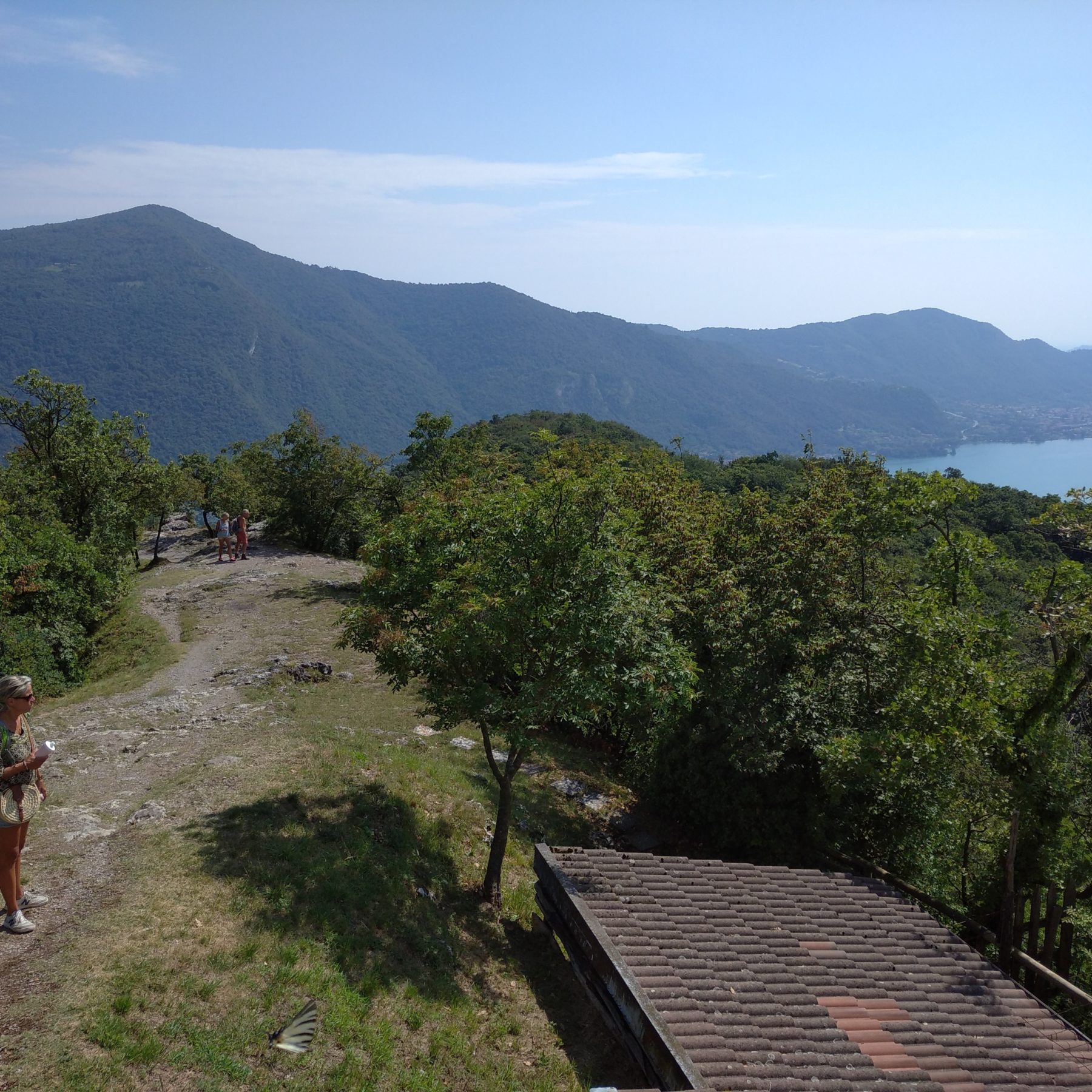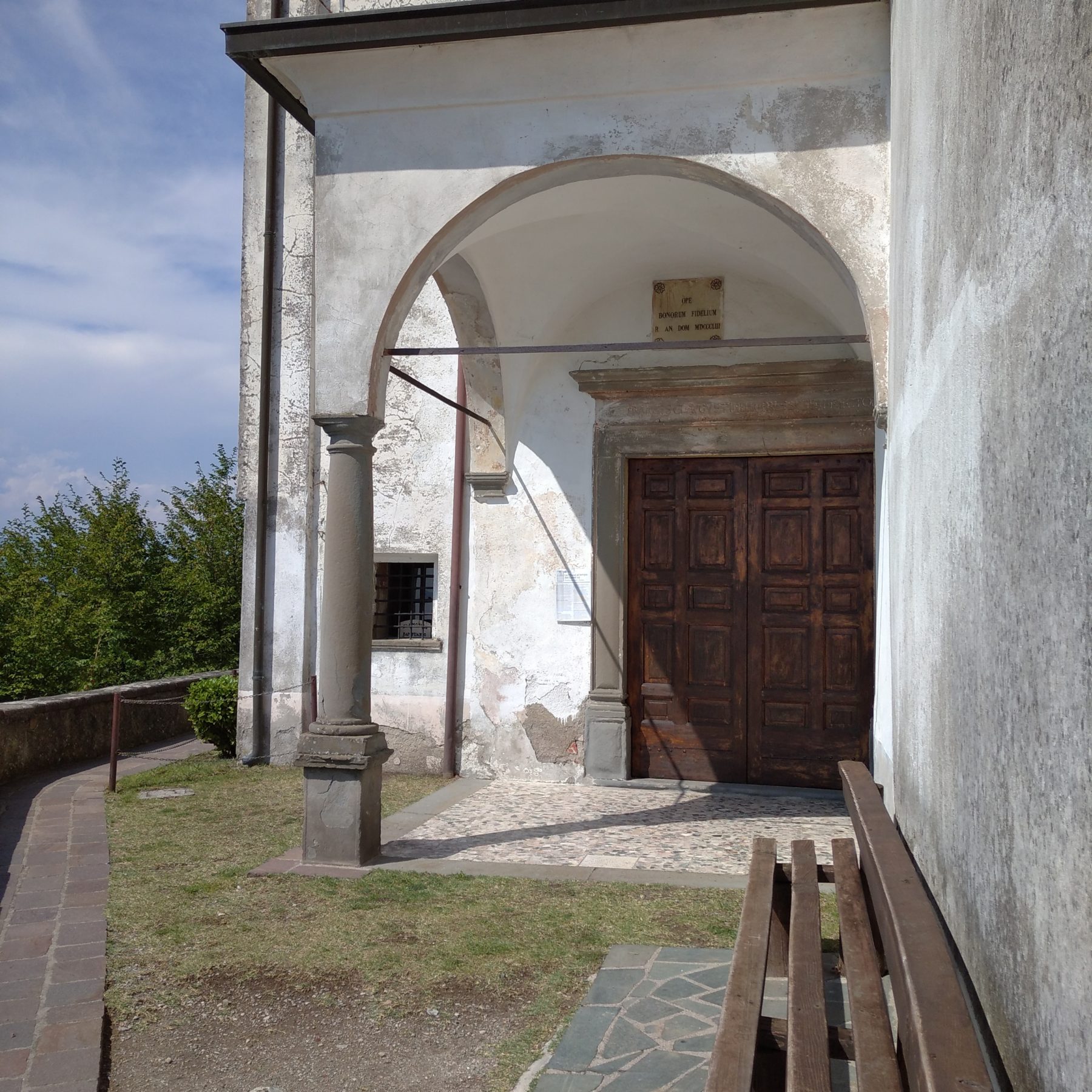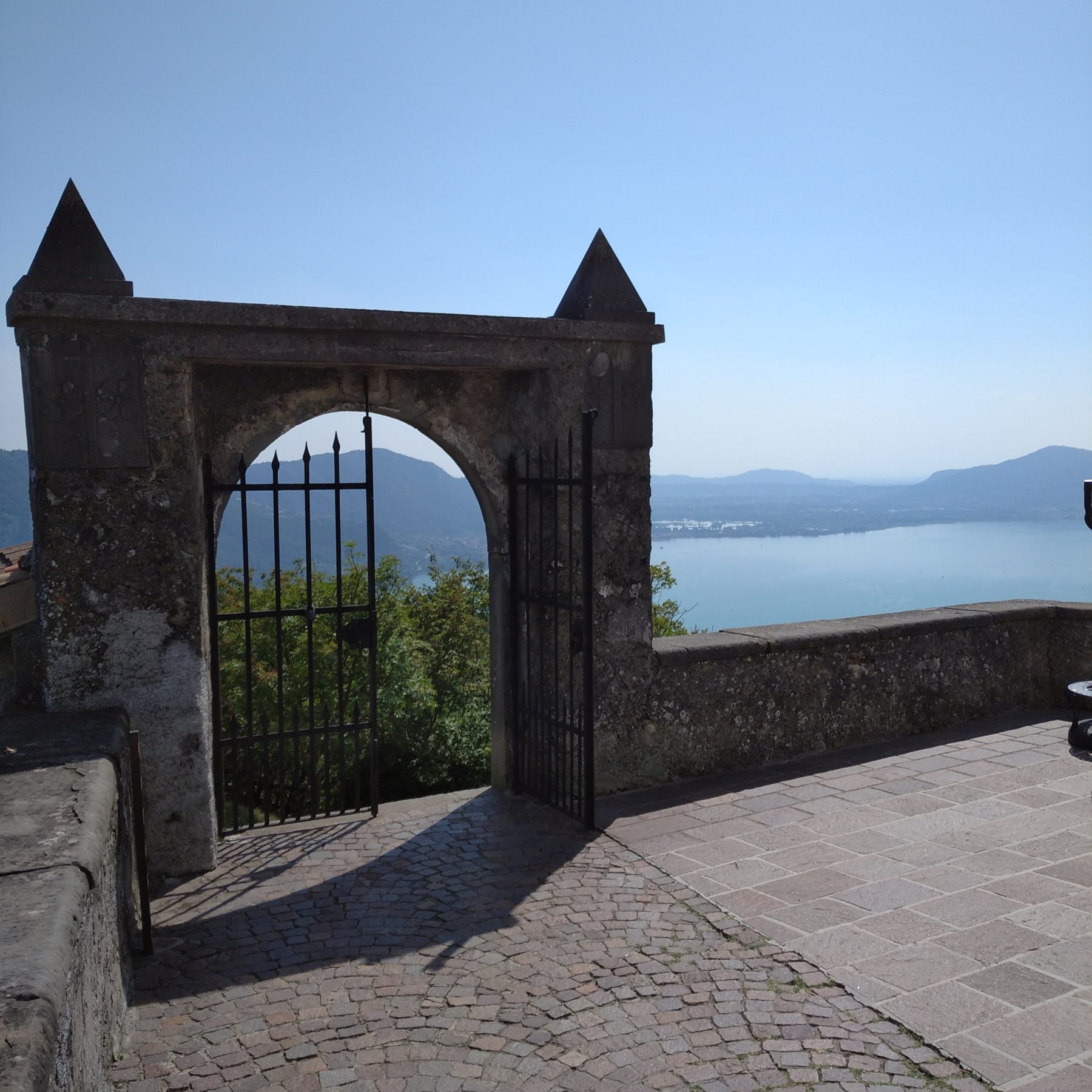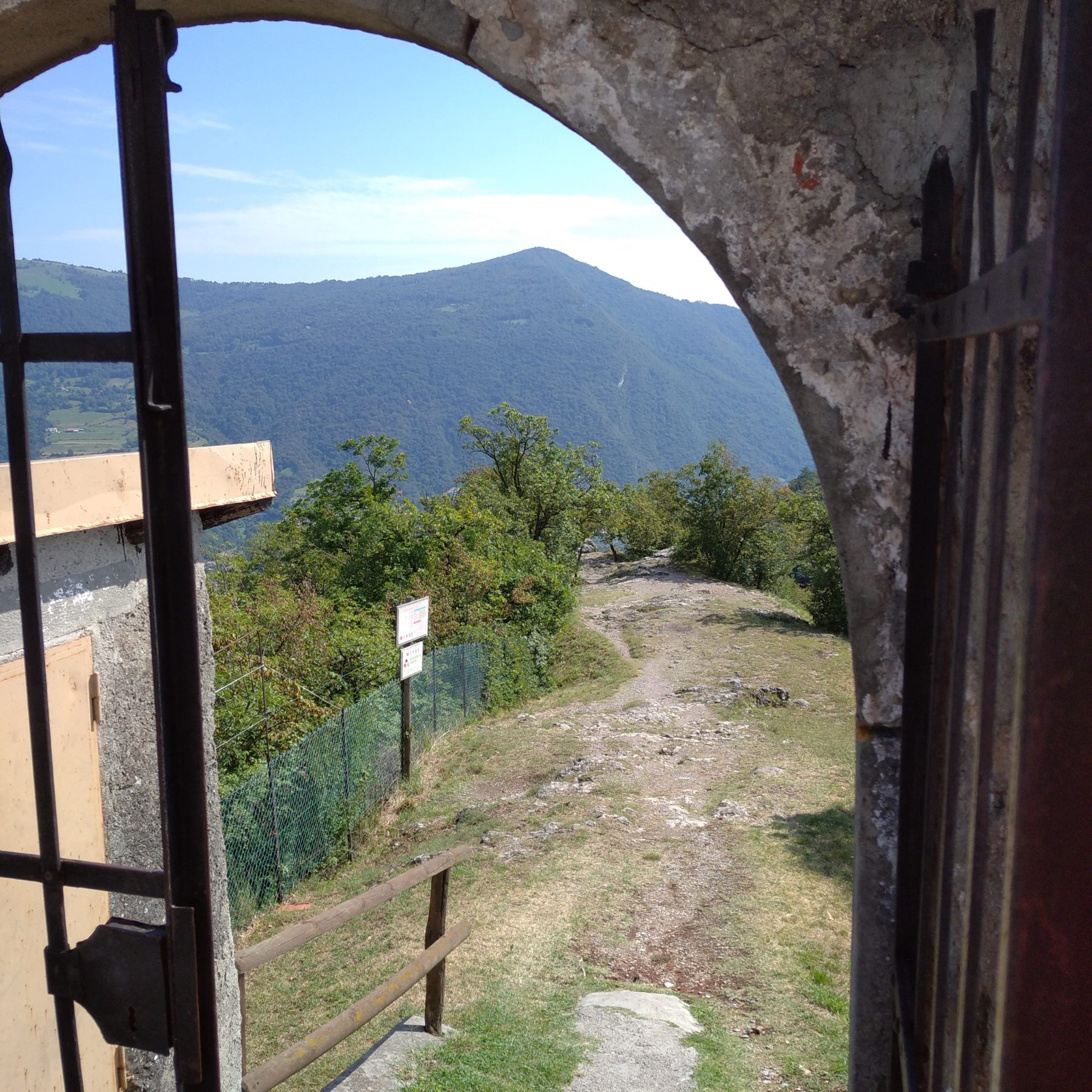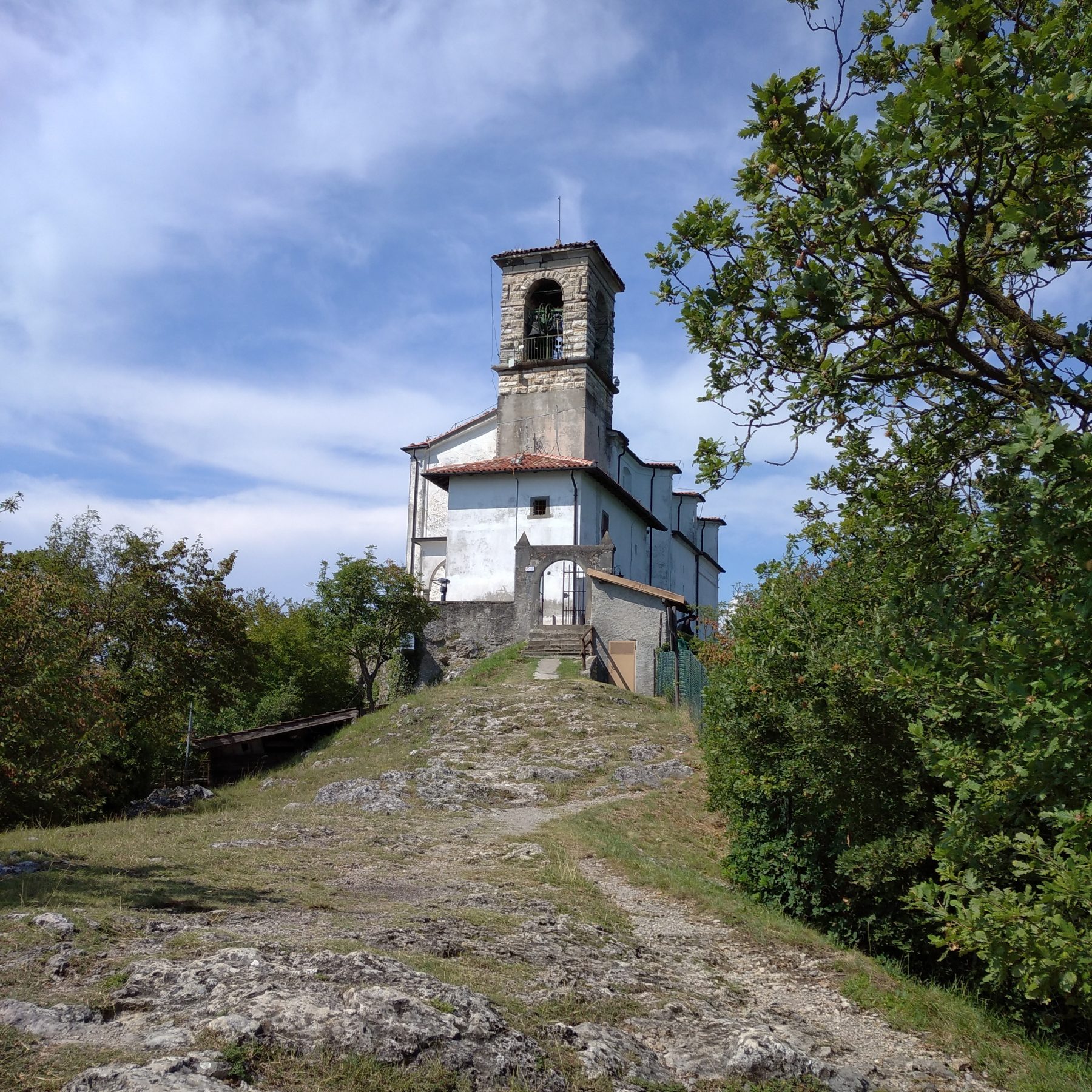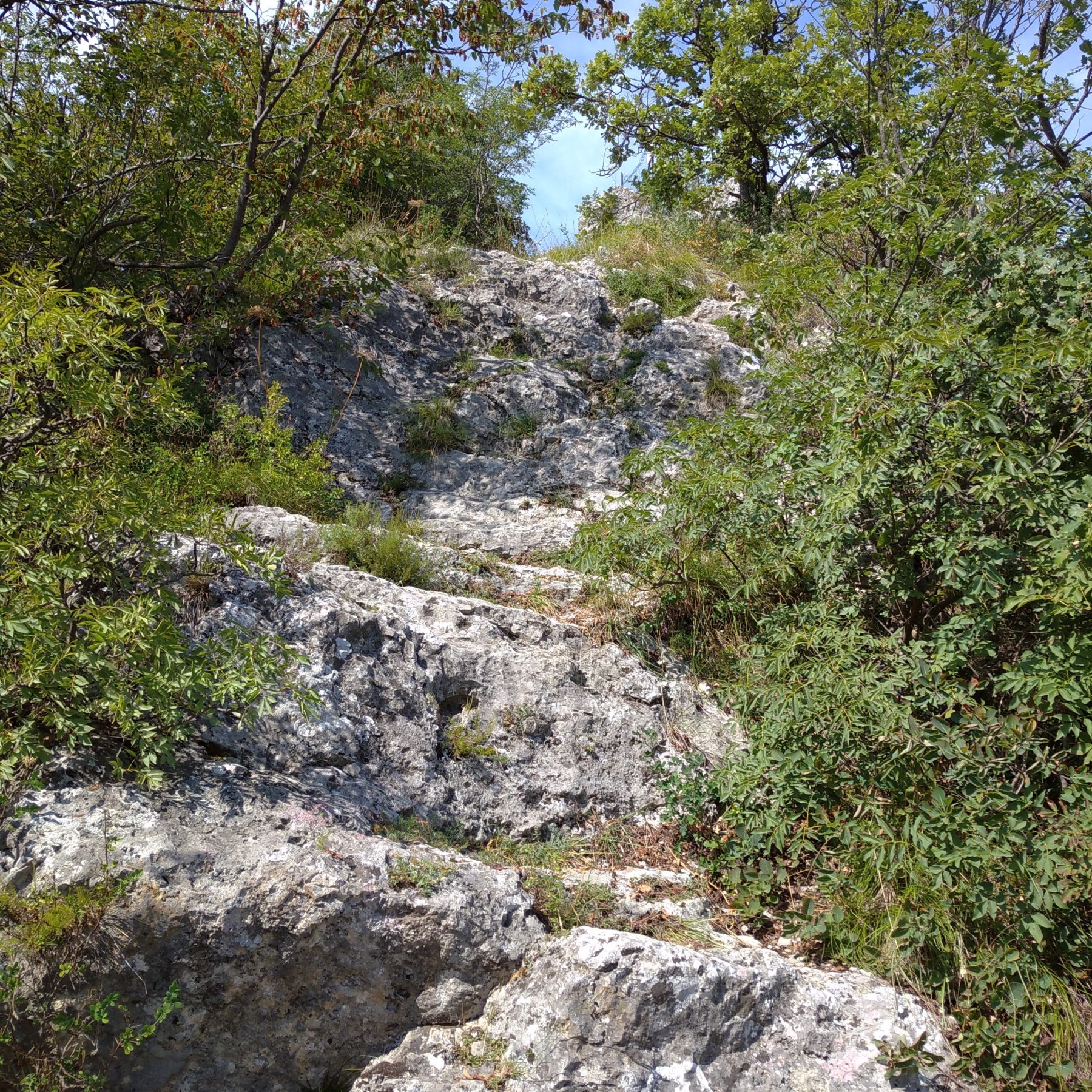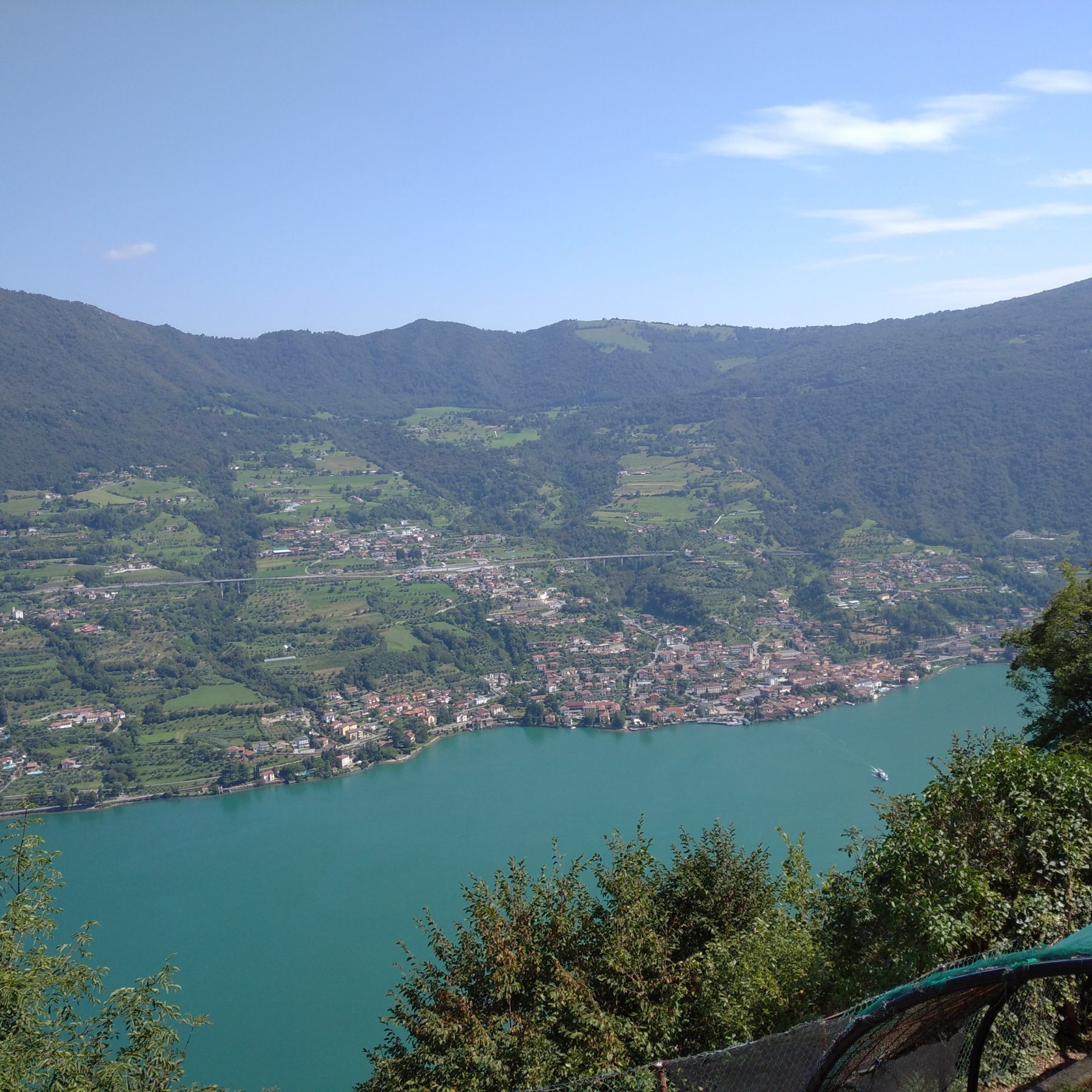 Trekking from Peschiera Maraglio to the Ceriola Sanctuary
Climbing to the Madonna della Ceriola Sanctuary in Monte Isola means reaching one of the most scenic places of Lake Iseo, with a 360 ° view of its coasts and the mountains that surround it, up to the gentle hills of Franciacorta and beyond .
Although it is possible to arrive near the Sanctuary with the minibus, it is advisable to go on foot, crossing one of the wonderful paths that wind along the island.
DE – Wenn man zum Heiligtum Madonna della Ceriola auf Monte Isola hinaufsteigt, erreicht man einen der panoramischsten Orte des gesamten Iseosees, mit einem 360 ° -Blick auf die Küsten und die umgebenden Berge bis zu den Hügeln von Franciacorta.
Es ist möglich, mit einem kleinen Buss in der Nähe des Heiligtums anzukommen. Es ist aber ratsam, zu Fuß auf einer der wunderbaren Wege zu gehen, die sich um die Insel schlängeln.
The trail / der Weg
The path starts from Peschiera Maraglio, just outside the Information Office (from the pier 1 about 200 meters on the left, from the pier 3 about 200 meters on the right). Take the vaulted path next to the Infopoint and climb up through the town. After a flight of stairs, you arrive on the main road, cross it and enter the woods, taking the path on the left, first with steps and immediately unpaved. After about a half hour of climbing among trees, shrubs and spectacular views, a small area equipped with tables and benches invites you to a regenerating break. Continuing north, the view is soon captured by the splendid view of the Island of San Paolo and the Martinengo Fortress. From here, the trail becomes less steep and, passing through shady chestnut woods, it soon reaches the village of Cure.
At this point the possibilities to go up to the Sanctuary are two:
1. Long itinerary: just before the village, turn right and go up the mule track that slowly leads to a beautiful chestnut clearing, placed almost to protect a fairy-like little house. Go beyond it, continue to the left until you take a detour to the right, where large banked steps lead in a few steps to the southern entrance of the Sanctuary.
2. Short itinerary: cross the village of Cure until you reach the little chapel dedicated to the Madonna and turn right. Go up the mule track in the woods where, after passing some stone houses on the left, a beautiful round arch on the right indicates the beginning of the Via Crucis, which leads to the northern entrance of the Sanctuary.
Comfortable and closed trekking shoes are recommended (no sandals, no heels).
DE – Der Weg beginnt in Peschiera Maraglio, genau vor dem Informationsbüro (vom Pier 1 etwa 200 Meter links, vom Pier 3 etwa 200 Meter rechts). Man nimmt den gewölbten Pfad, der entlang des Informationsbüros verläuft, und steigt mitten in dem Dorf auf. Nach einer Treppe kommt man auf der Hauptstraße an, man überquert sie und betritt den Wald. Man nimmt den Pfad auf der linken Seite. Nach etwa einer halben Stunde zwischen Bäumen, Sträuchern und spektakulären Ausblicken wird man ein kleiner Bereich mit Tischen und Bänken finden. Weiter nach Norden wird der Blick bald von der herrlichen Aussicht auf die Insel San Paolo und die Rocca Martinengo eingefangen. Von hier aus wird der Weg weniger steil und erreicht durch schattige Kastanienwälder den Ortsteil Cure.
An diesem Punkt gibt es zwei Möglichkeiten:
1. Lange Variante: kurz vor dem Ortsteil Cure biegt man rechts ab und geht den Saumpfad hinauf, der langsam zu einer schönen Lichtung von Kastanienbäumen führt. Nachdem man vorbeigegangen ist, geht man links weiter, bis man einen Umweg nach rechts macht, wo stufenweise angeordnete Felsbrocken in wenigen Schritten zum südlichen Eingang des Heiligtums führen.
2. Kurze Variante: Man durchquert den Ortsteil Cure, bis man den kleinen Schrein erreicht, der der Madonna gewidmet ist, und biegt rechts ab. Man geht den Saumpfad im Wald hinauf, wo links, vorbei an einigen Steinhäusern, ein schöner Rundbogen rechts den Beginn der via Crucis anzeigt, die zum Nordeingang des Heiligtums führt.
Trekkingschuhe werden empfohlen (keine Sandalen, keine Stöckelschuhe).
How to arrive and where to park / Anreise und Parkplätze
Follow the signs to Iseo and then continue on the coast road towards Sulzano and Sale Marasino. Line navigation service between Sulzano – Monte Isola Peschiera Maraglio (every 15 minutes) and Sale Marasino – Monte Isola Carzano (every 20 minutes). It is not possible to reach Monte Isola by private means of transport.
Presence of parking spaces both in Sulzano and Sale Marasino.
DE – Man muss den Schildern nach Iseo folgen und dann weiter auf der Küstenstraße in Richtung Sulzano und Sale Marasino fahren. Liniennavigationsdienst zwischen Sulzano – Monte Isola Peschiera Maraglio (alle 15 Minuten) und Sale Marasino – Monte Isola Carzano (alle 20 Minuten).
Es gibt Parkplältze sowohl in Sulzano als auch in Sale Marasino.
Book now:
Trust the experience of: