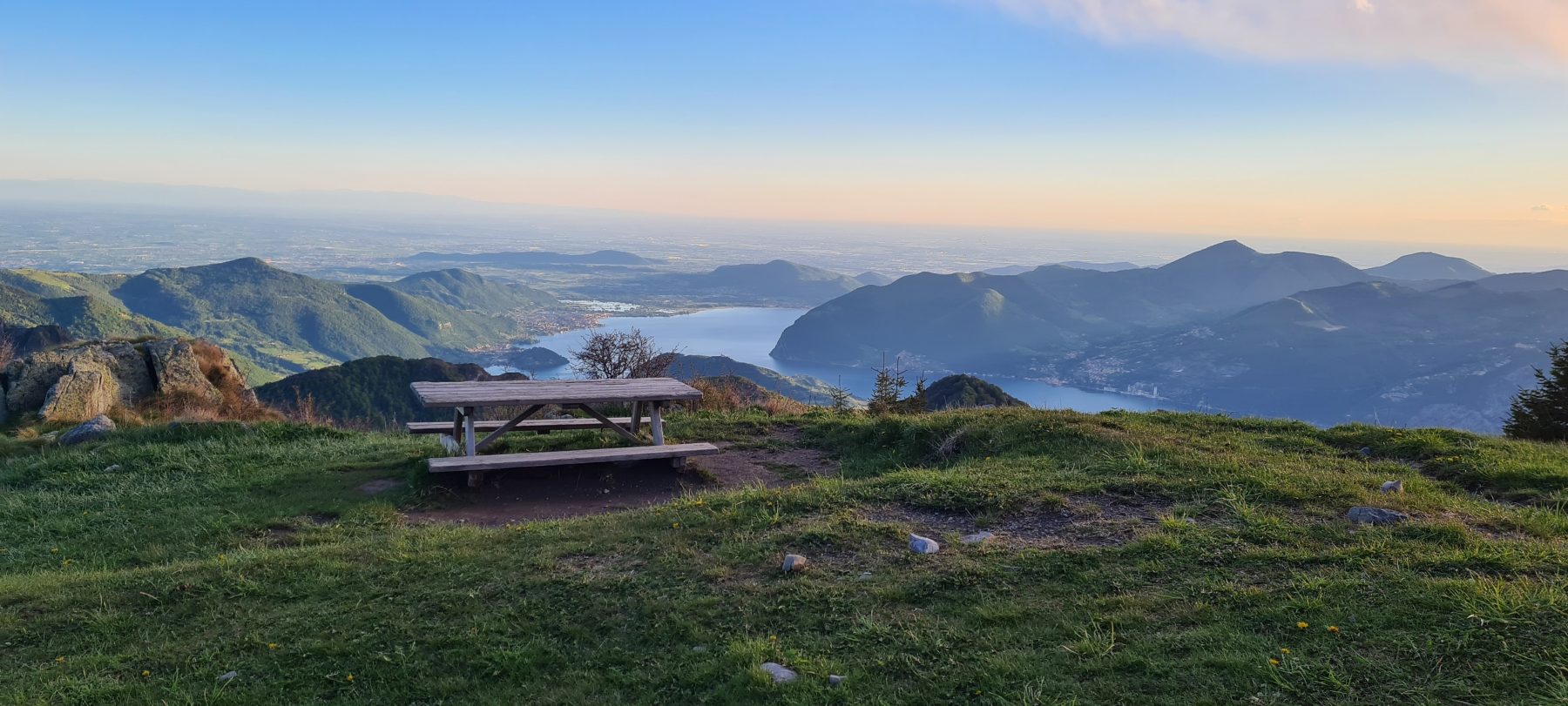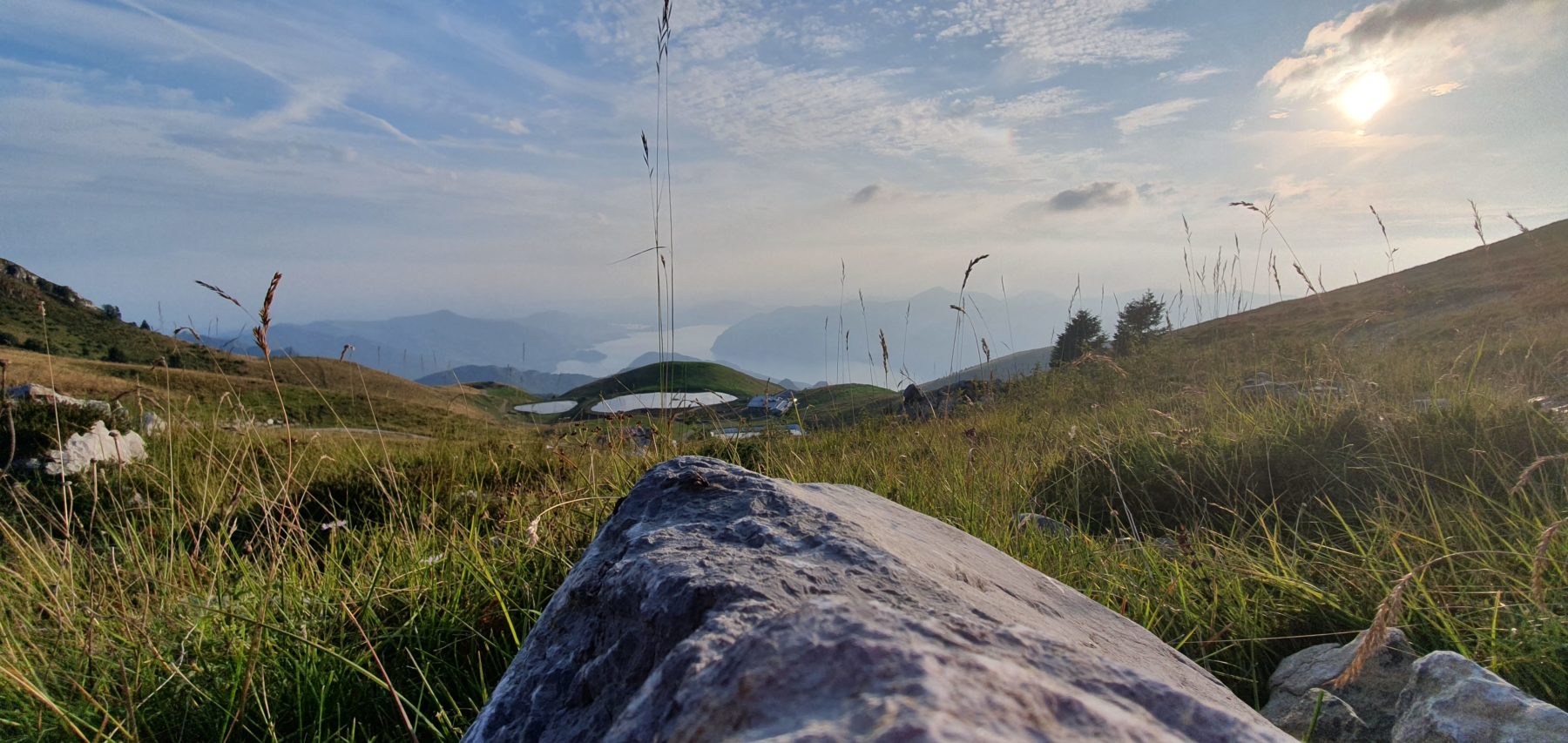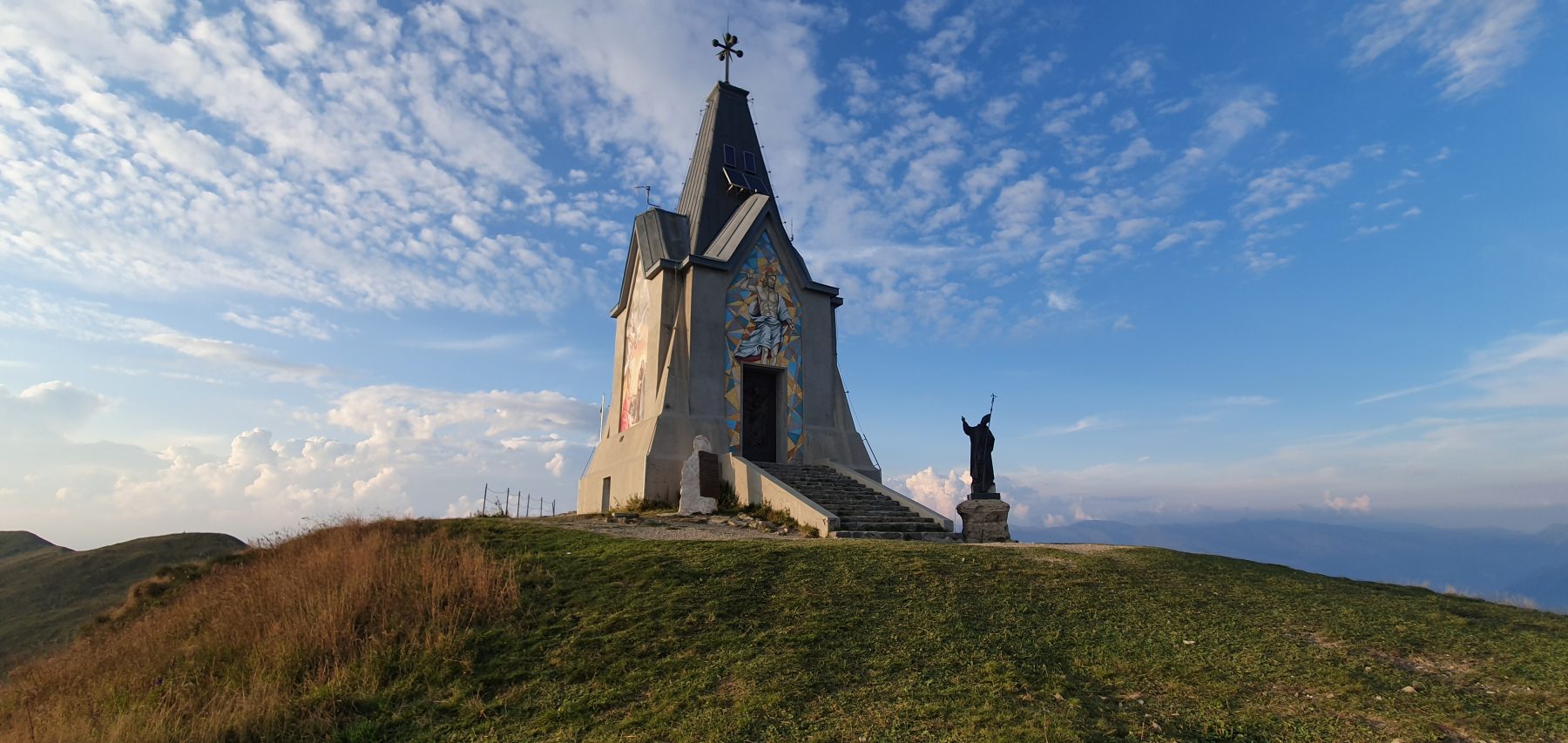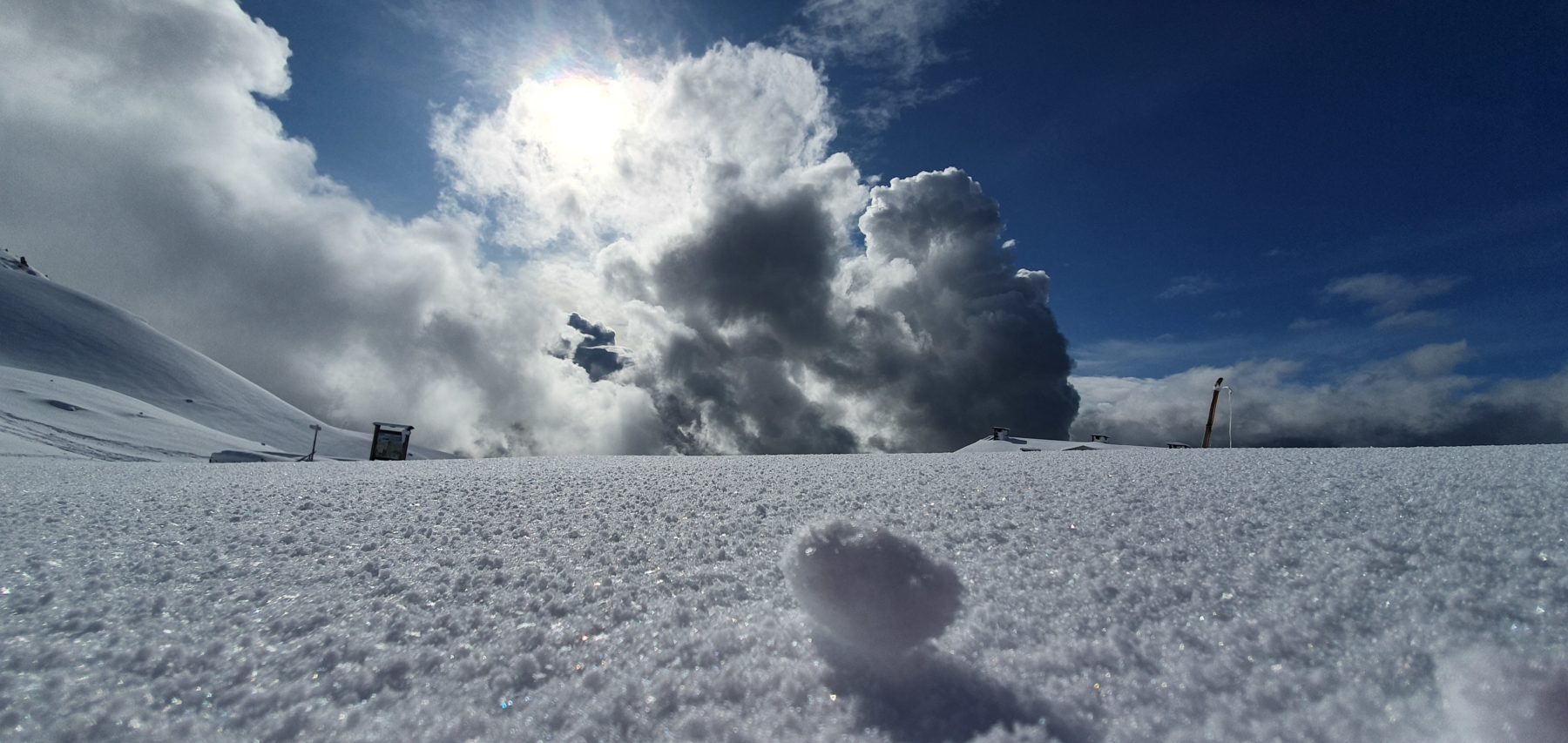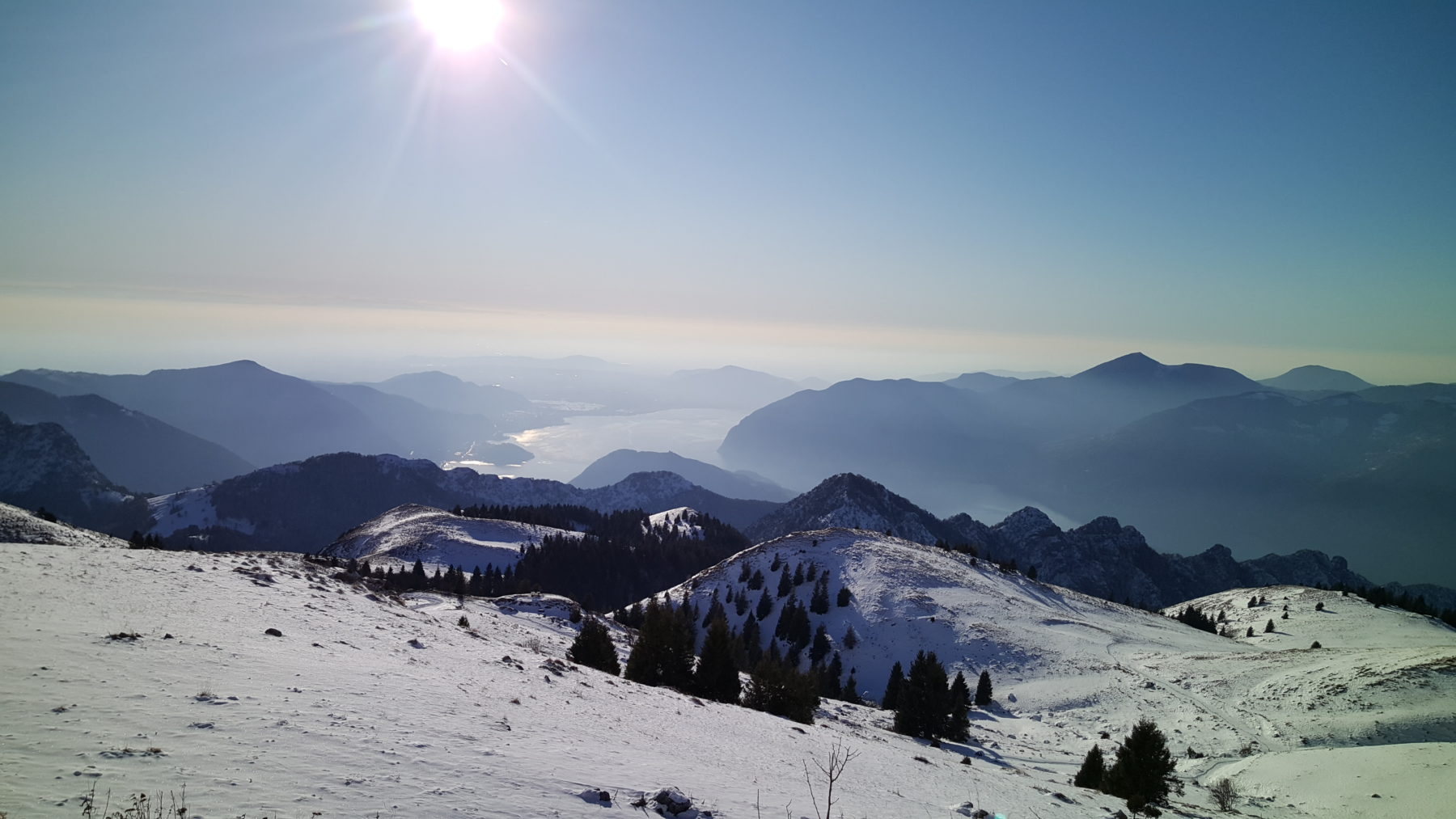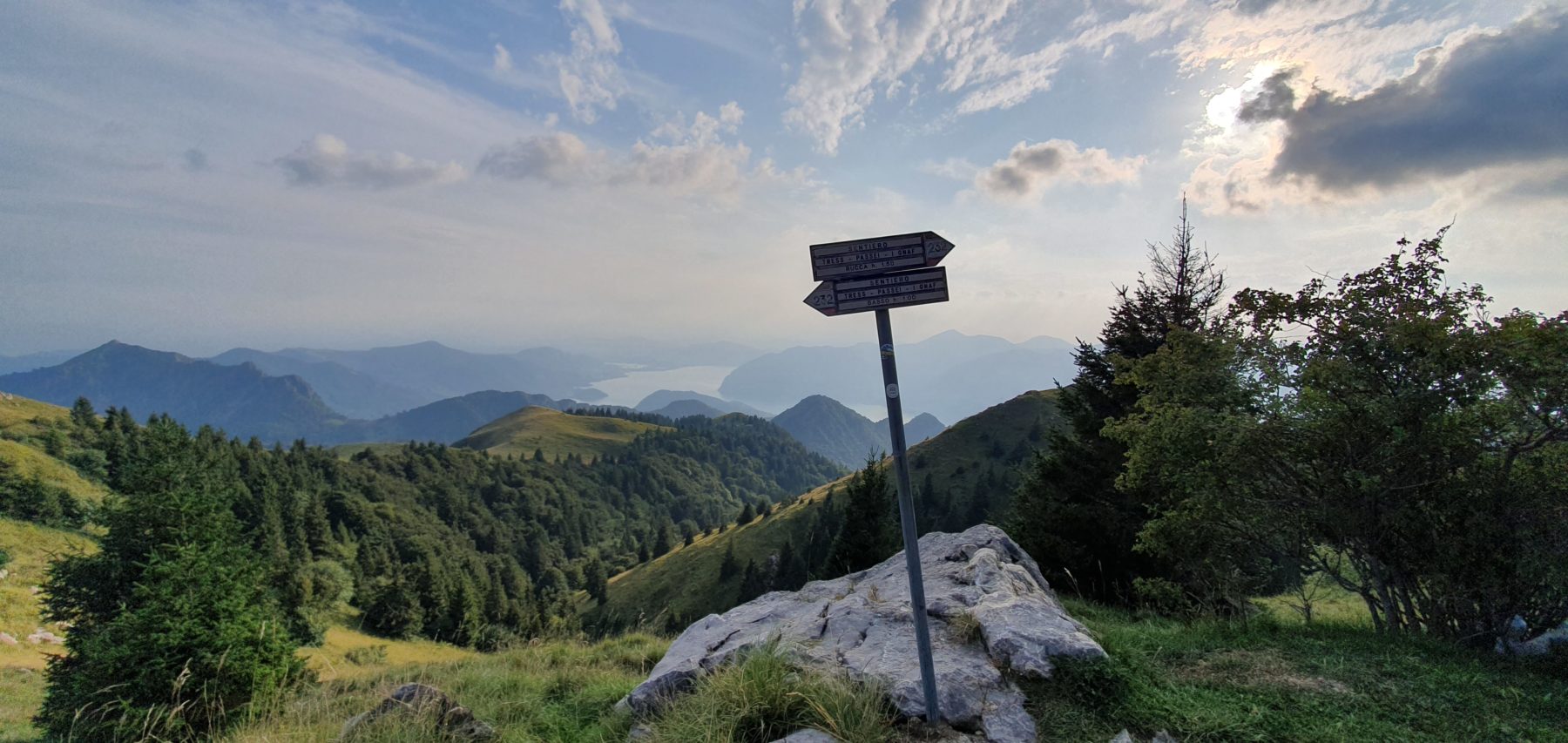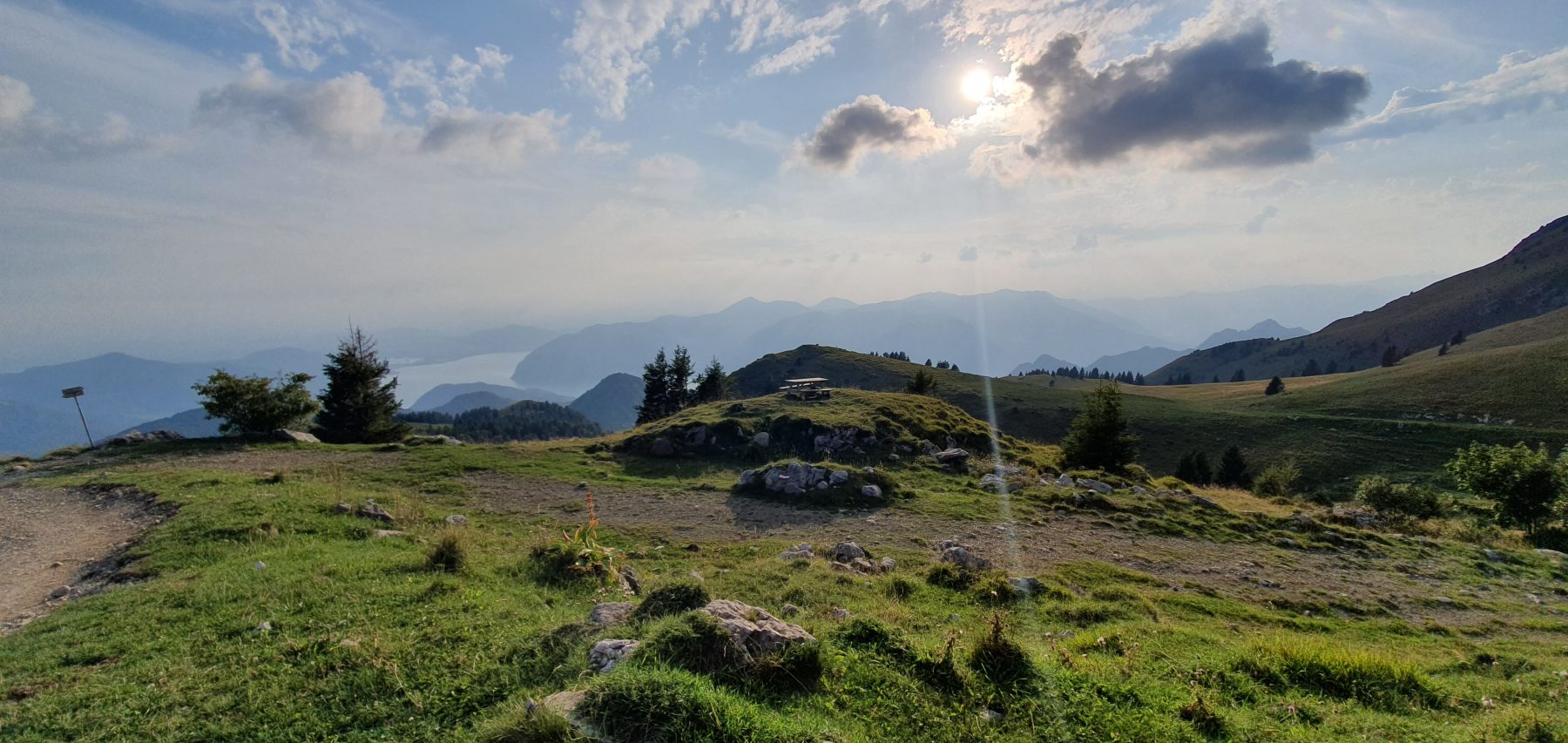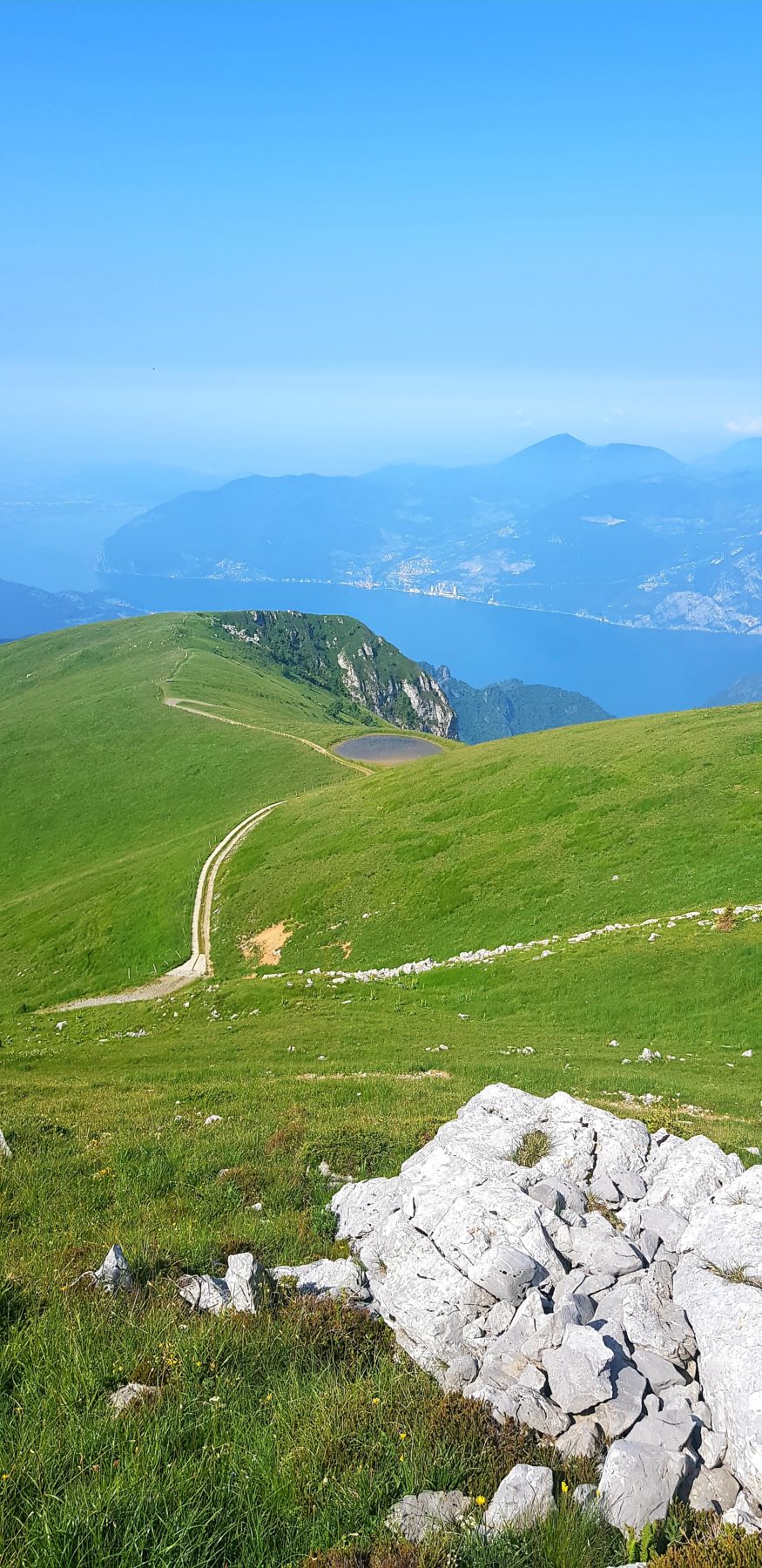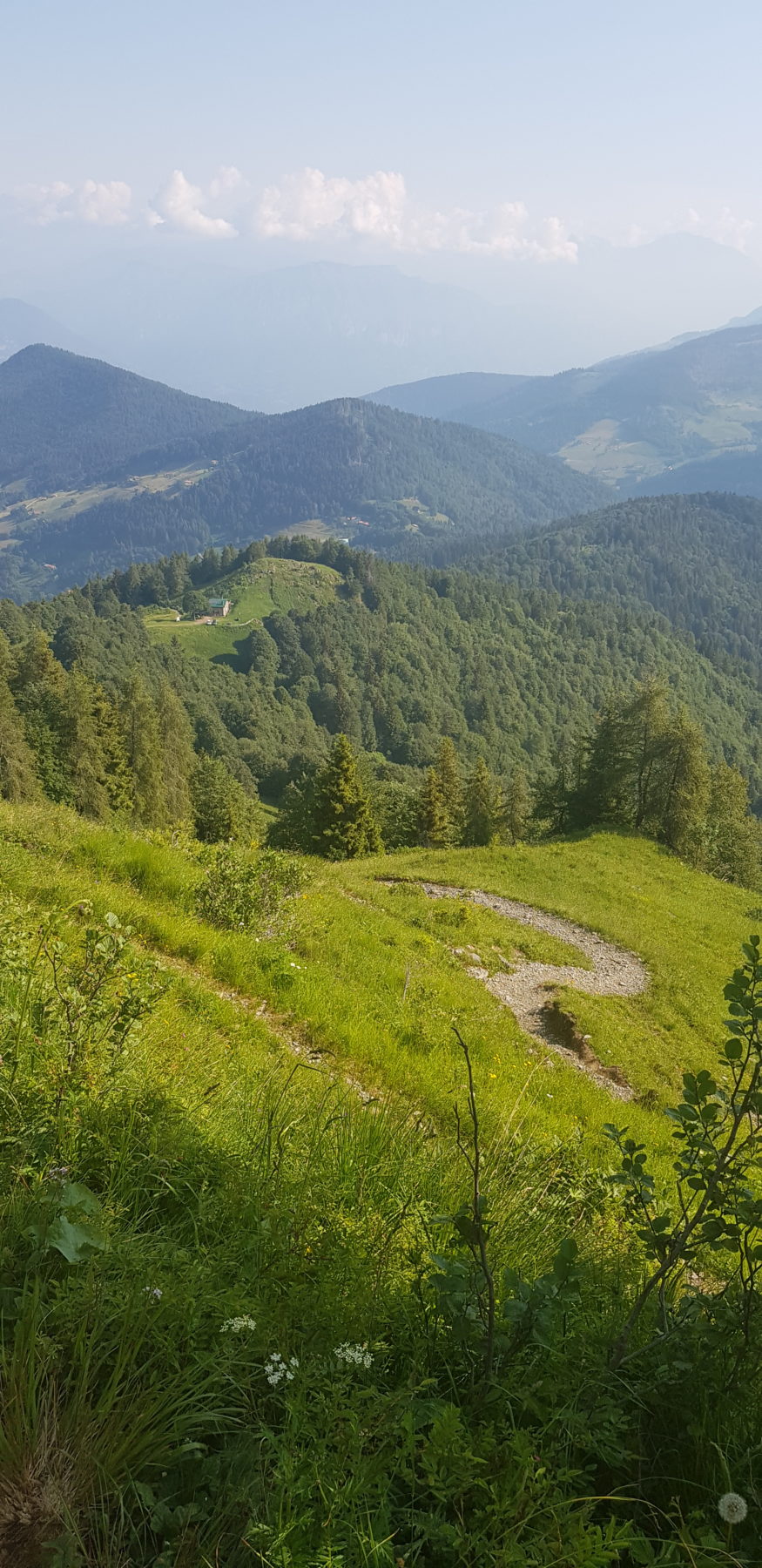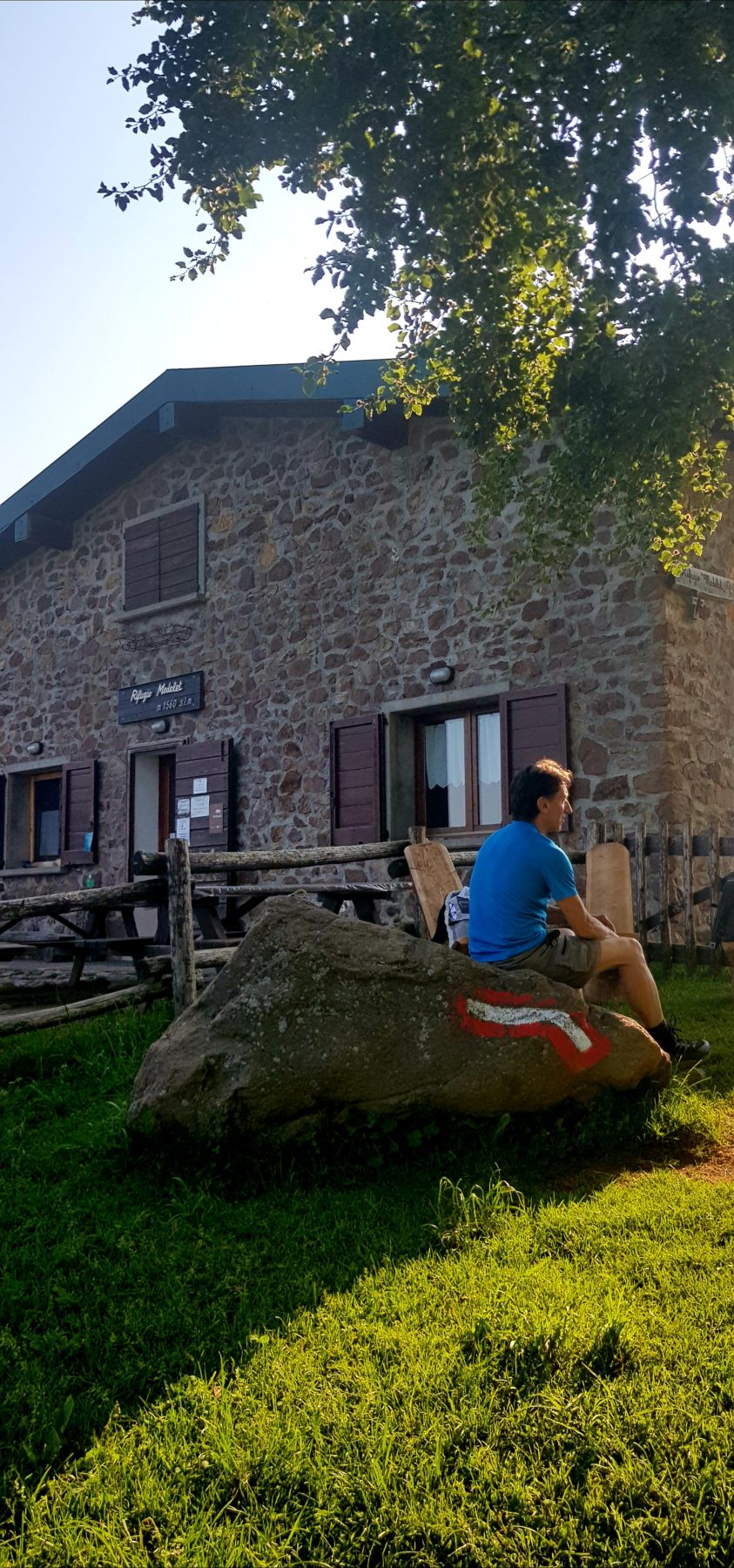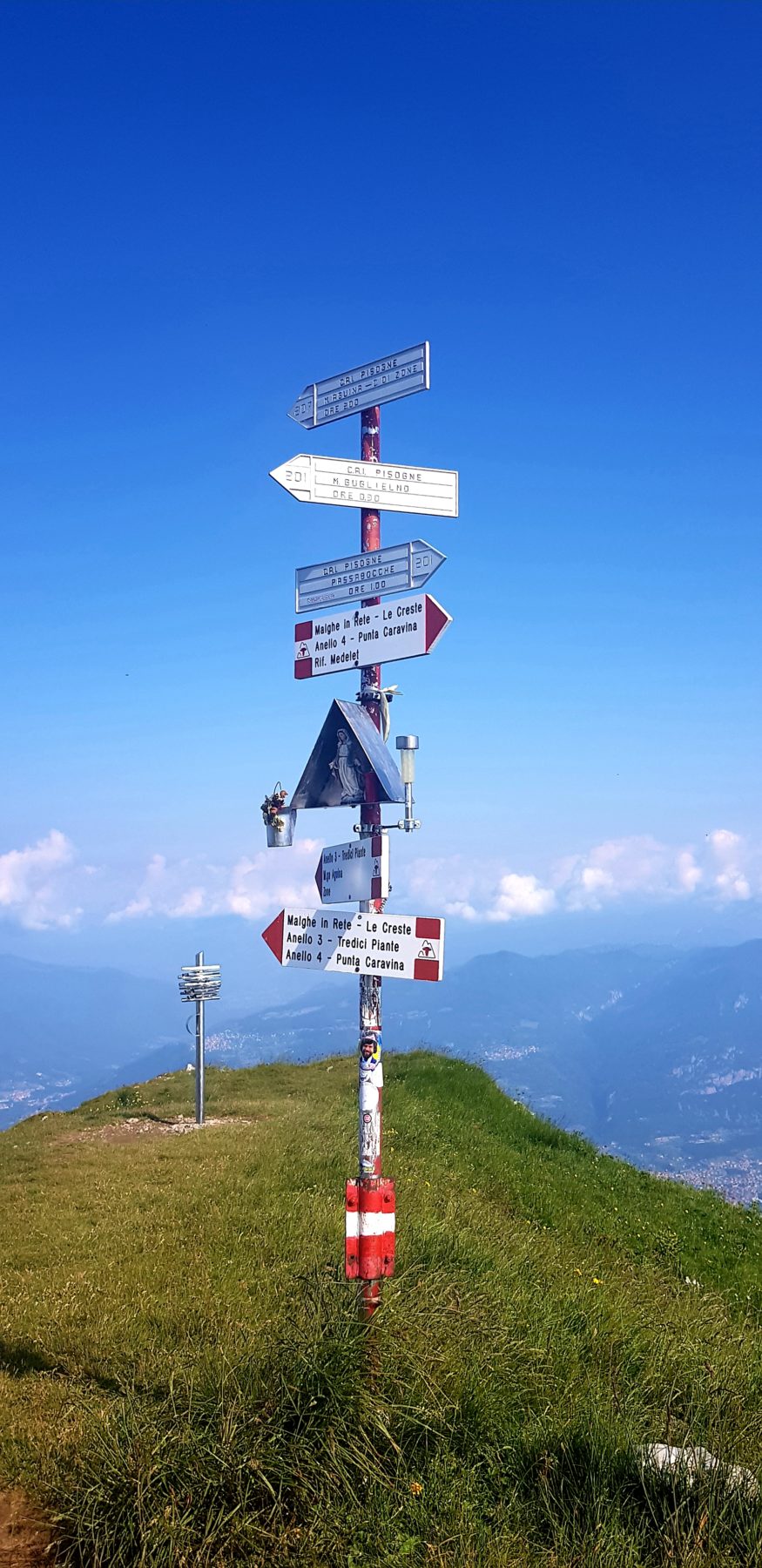 Trekking from Pisogne to Monte Guglielmo
The trail / der Weg
Wonderful itinerary from Pisogne to the top of Monte Guglielmo. The trail is suitable for trained hikers.
From Pisogne you set off following the road to Grignaghe up to the locality Ronchi, just beyond the Pieve, where, turning right, you take the small road that leads to Pressó between huge and centuries-old chestnut trees. You then follow a stretch of the road to Terzana up to the locality Giacche, where you turn left on the mule track that takes you to Pontasio. After crossing the hamlet, you pass through the sanctuary of death (just above the church of S. Vittore) and take the carriage road for Zoncone, where at the second bend, you leave to follow the mule track that quickly leads you to Grignaghe. On reaching the parish church dedicated to S. Rocco, turn right and go up to the church of S. Michele, where you take the mule track to Passabocche. Continue on the paved road crossing the asphalted road several times; touch the localities of Canali, Sommo, take the mule track that leads to Ceto Superiore and proceed to Crocemarino, where following the carriage road you reach the Passabocche pass. At the Passabocche pass, take the easy road for a short stretch and then follow the mule track to the left that takes you to the Passate. Then continue on the path that leads to Rifugio Medelet and which then climbs up the steep north side of the Pedalta, reaching the ridge in Punta Caravina at m. 1847. From Punta Caravina it is possible to admire the vast panorama towards Lake Iseo, Valcamonica and the Orobie Alps. The path then continues flat among the Pedalta pastures, passing through Malga Palmarusso di sopra and reaching the Rifugio Almici; then a short climb and you reach the summit of Mount Guglielmo at m. 1948. Here stands the grandiose monument dedicated to the Redeemer, inaugurated on 24 August 1902.
DE – Wunderbare Route, die von Pisogne zum Gipfel des Monte Guglielmo führt. Die Route ist für erfahrene Wanderer geeignet.
Von Pisogne geht man auf der Straße nach Grignaghe bis nach Ronchi, gleich hinter dem Pieve. Dort biegt man rechts ab und nimmt die Straße, die zwischen riesigen und jahrhundertealten Kastanienbäumen nach Pressó führt. Dann folgt man einem Abschnitt der Straße nach Terzana bis zum Ortsteil Giacche, wo man links auf den Saumpfad abbiegt, der nach Pontasio führt. Nachdem man den Ortsteil überquert hat, geht man das kleine Heiligtum des Todes (direkt über San Vittore Kirche) vorbei und nimmt die Straße nach Zoncone, wo man in der zweiten Kurve dem Saumpfad folgt, der schnell nach Grignaghe führt. Wenn man die Pfarrkirche erreicht, die San Rocco gewidmet ist, biegt man rechts ab und geht man zur Kirche San Michele, wo man den Saumpfad nach Passabocche nimmt. Man folgt der asphaltierten Straße und überquert diese Straße mehrmals. Man wird die Ortschaften Canali, Sommo vorbeigehen, dann muss man den Saumpfad nehmen, der nach Ceto Superiore führt, und weiter nach Crocemarino fahren , wo man über die Straße den Passabocche-Pass erreicht. Man begeht eine kurze Strecke und folgt dann dem Saumpfad nach links, der zum Ortsteil Passate führt. Man folgt dem Weg zur Medelet Hütte, der dann den steilen Nordhang der Pedalta hinaufsteigt und den Kamm in der Ortschaft Punta Caravina bei m. 1847 erreicht. Von Punta Caravina kann man einen weiten Blick auf den Iseosee, Valcamonica und die Alpi Orobie ewundern. Der Weg geht dann flach zwischen den Pedalta Weiden weiter, durch Malga Palmarusso di Sopra und bis zur Almici Hütte; nach einem kurzen Aufstieg wird man den Gipfel des Monte Guglielmo bei m. 1948 erreichen. Hier steht das grandiose Denkmal, das dem Heiland gewidmet ist und am 24. August 1902 eingeweiht wurde.
Shorter variant / kürzere Variante
For those who want to reach the summit of Monte Guglielmo it is also possible to take a shorter variant starting the route at the Passabocche pass and following the directions for the trail. Possibility of parking at the unpaved clearing in Passabocche di Pisogne.
Distance: 5.1 km
Difference in altitude: 636 m
DE – Für diejenigen, die den Gipfel des Monte Guglielmo erreichen möchten, ist es möglich, eine kurze Variante zu nehmen, deren Route am Passabocche-Pass beginnt. Parkplatz in Passabocche di Pisogne.
Strecke: 5,1 km
Höhenunterschied: 636 m
How to arrive and where to park / Anreise und Parkplätze
Follow the directions for Lake Iseo and take the SP 510 – Pisogne Sud / Toline exit. At the entrance to the town, follow the signs for Val Palot up to the parking lot near the Pieve di Santa Maria in Silvis in via Ronchi.
DE – Man muss den Wegbeschreibungen für den Iseosee folgen und die Ausfahrt SP 510 – Pisogne Sud / Toline nehmen. Am Eingang der Stadt folgt man den Schildern nach Val Palot bis zum Parkplatz in der Nähe des Pieve di Santa Maria in Silvis, in via Ronchi.
---
Credits: CAI Pisogne
Book now:
Trust the experience of: