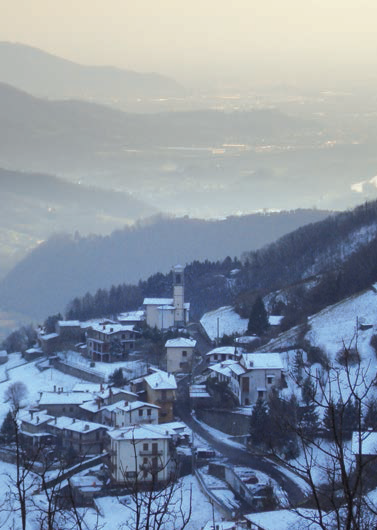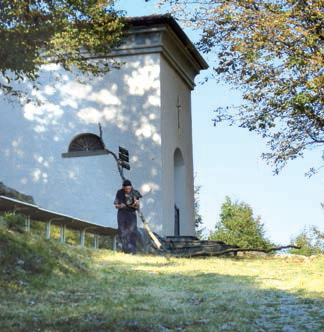 Footpath 4 715 From Adrara San Martino to Colli di San Fermo
The description of footpath no.4 is the same as for footpath n° 3 up until the Pennini quarter. Straight after having crossed the quarter, following the road uphill, you will see a small reservoir and the signs for footpaths no.3 and 4. Follow the signs along the road; you will go through a small red pine plantation and an oak and hornbeam wood. Going slightly uphill, you will get to the Costa district (604m) where we recommend you stop to visit the little Church of the Blessed Virgin.
Shortly after the church, on your left, an old fountain invites you to quench your thirst with its cool water. As you continue along the level road, you can admire the view of Monte Bronzone and Monte Dine on your right. When you reach the car park, the signs for footpath no.4 will lead you onto a mule-track that goes uphill to the Ghilardi district. This mule-track was once the only route that connected the villages in the Sebino area to the Colli di San Fermo. A typical woodland path will take you to the little church of the Madonna della Tosse; from here you can admire a glimpse of the Adrara valley. A bit further on, you will pass a wooden cross called "the cross to the dead of the valley". The mule-track is fairly easy-going until you reach the Bione area. Here on the right are connections to footpaths no.2 and 2a. Go up the cobbled steps (called "Risòl" in local dialect, and dating to 1889) to the top of the hill where you will join footpath no.1 that will take you to the church of San Fermo and San Rustico in the Colli di San Fermo.
Photos and text by:
Gruppo Sentieri Adrara San Martino e A.S.D Nordic Walking Lago d'Iseo – Paratico
www.grupposentieriadrara.it
Book now:
Trust the experience of: