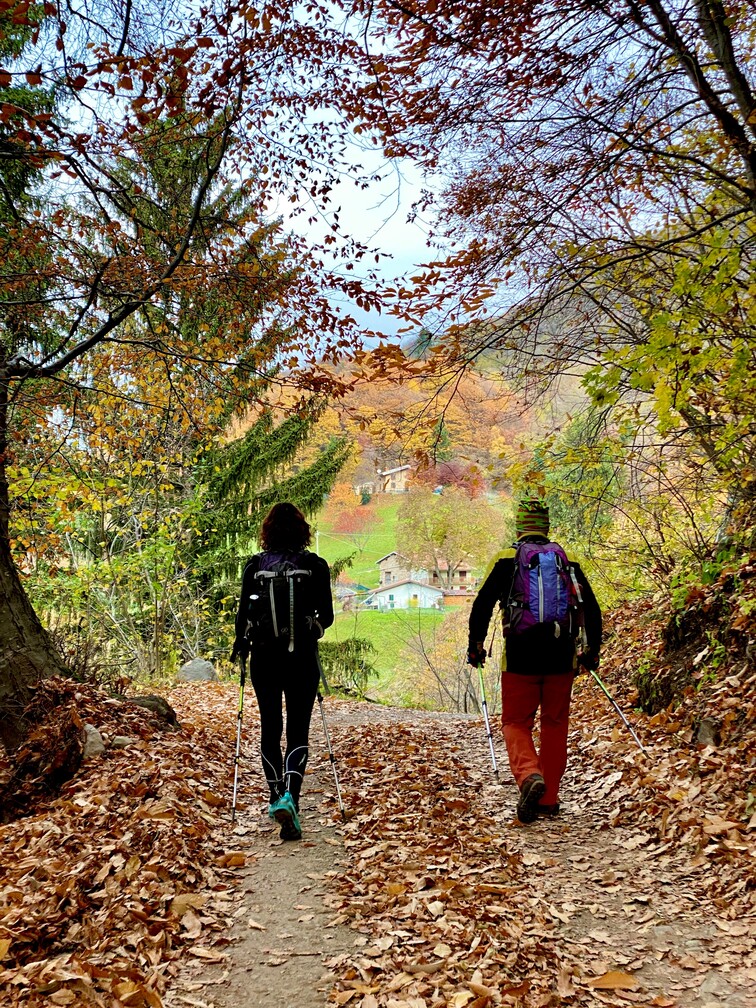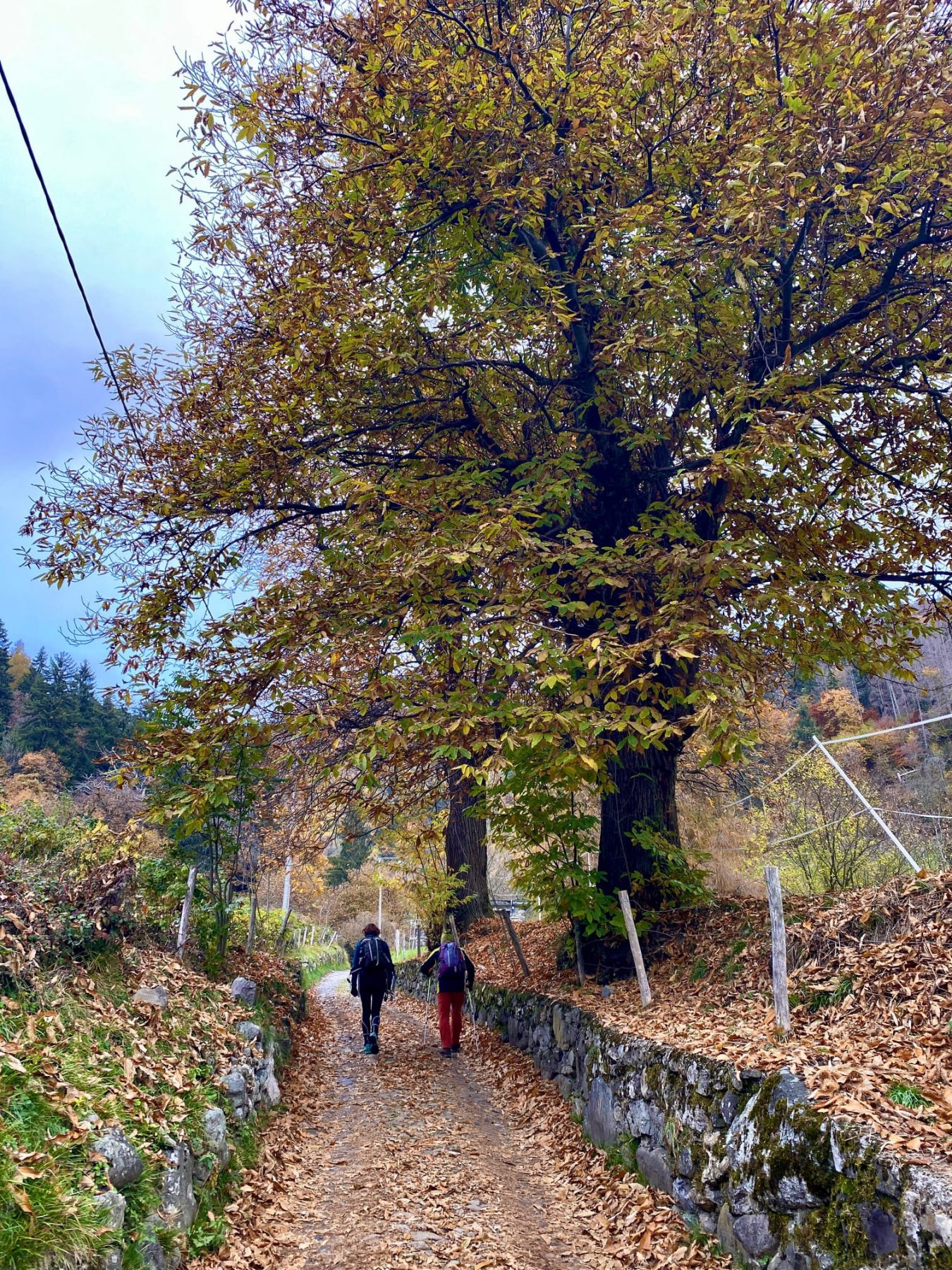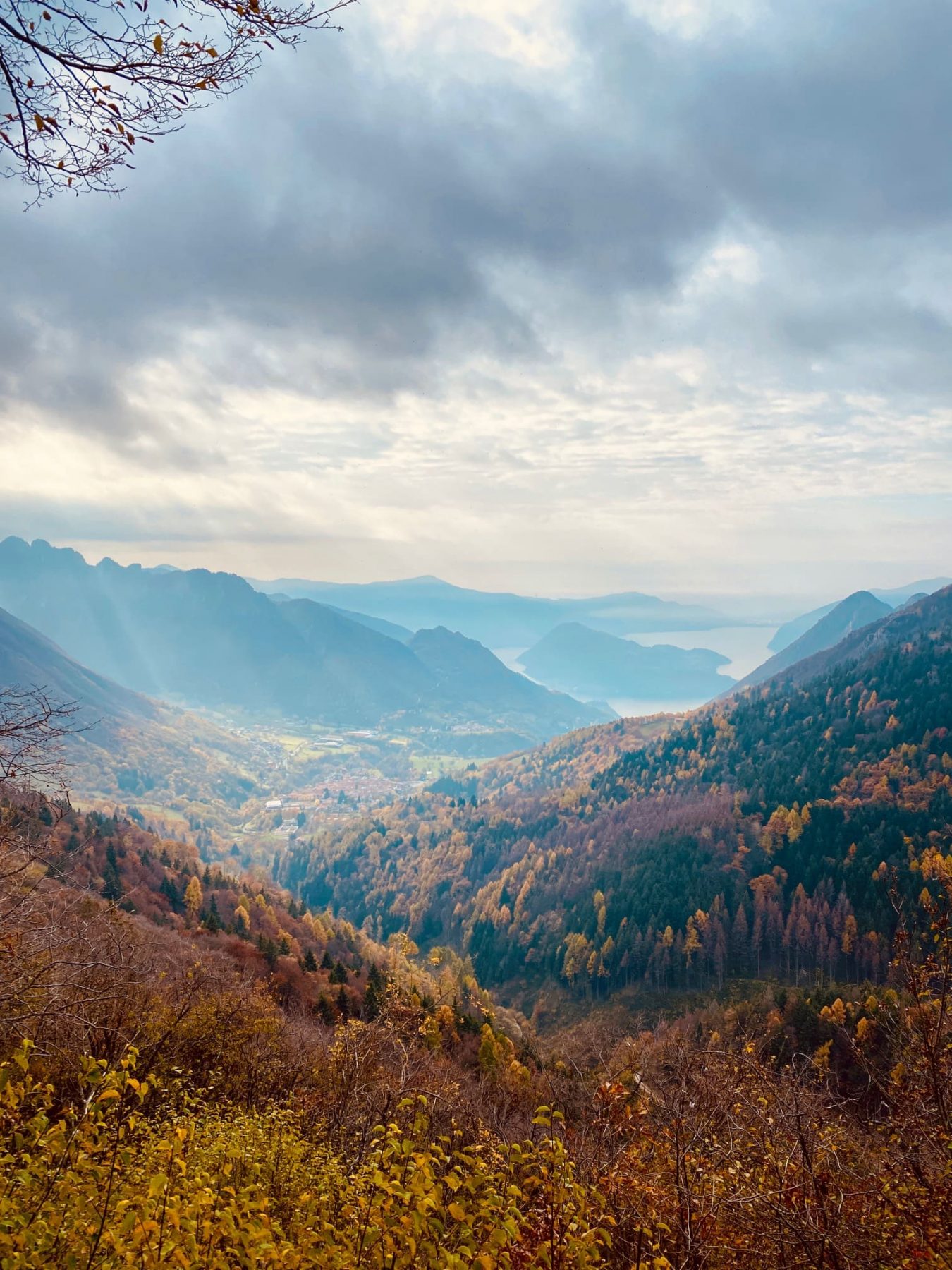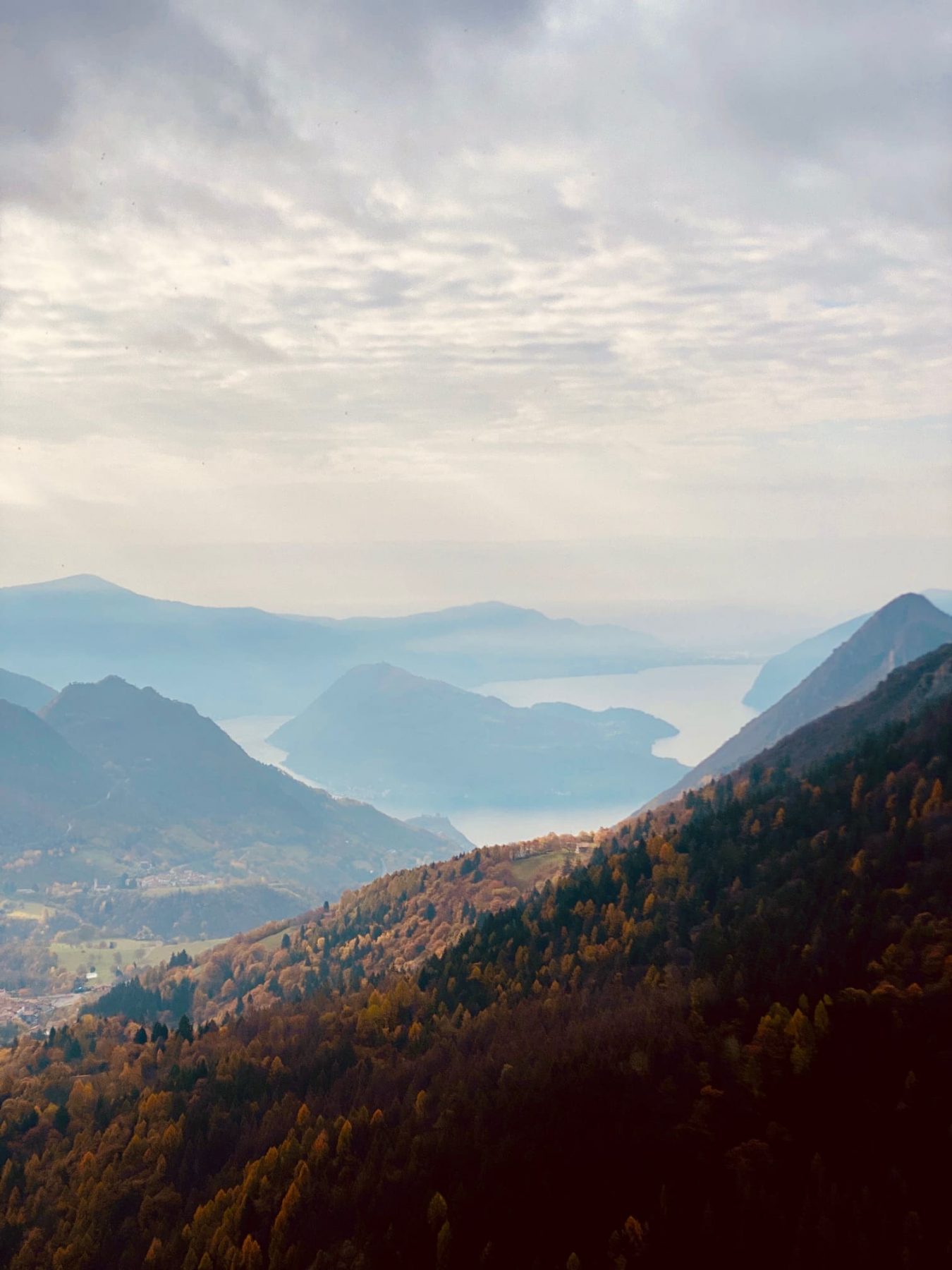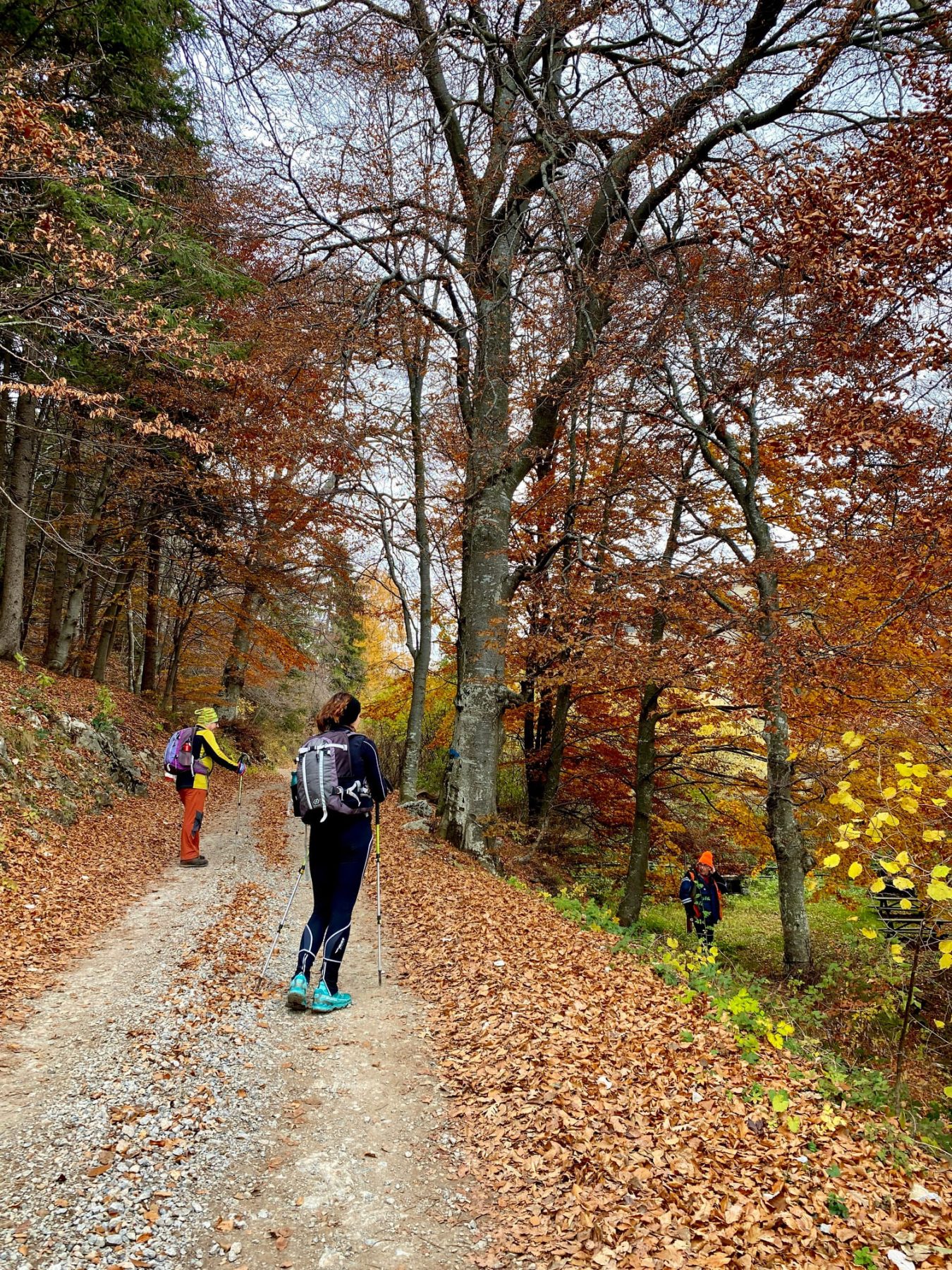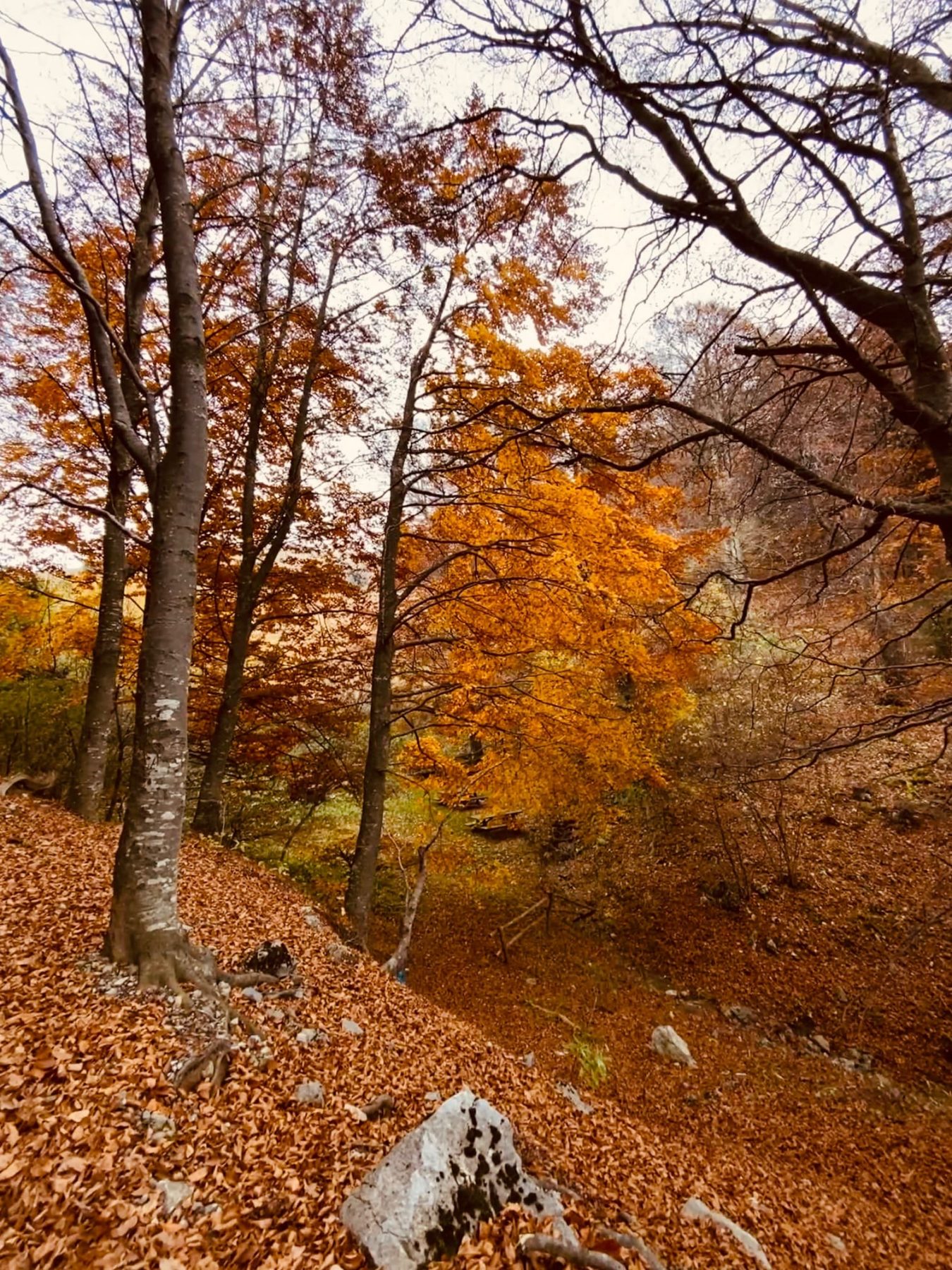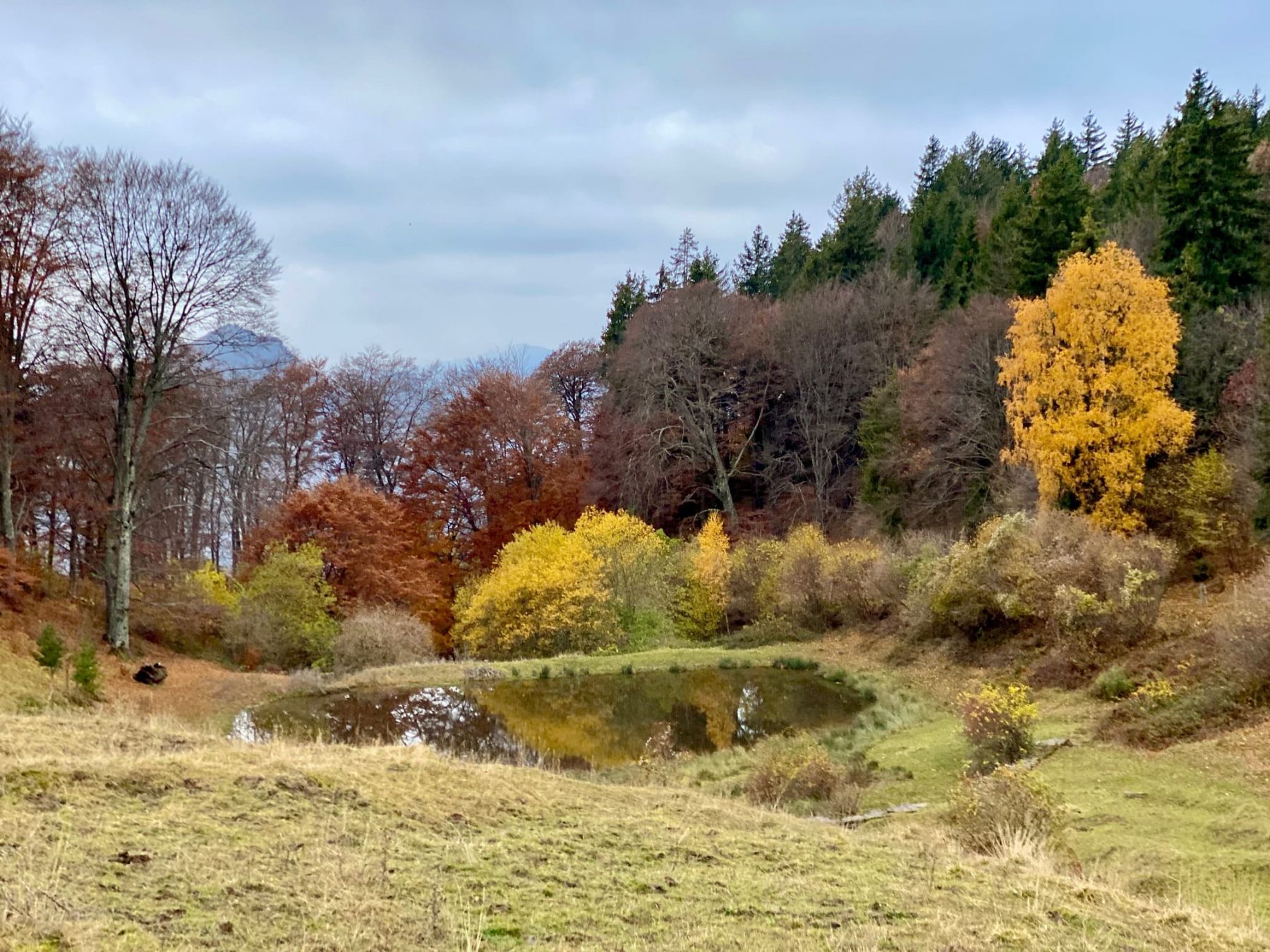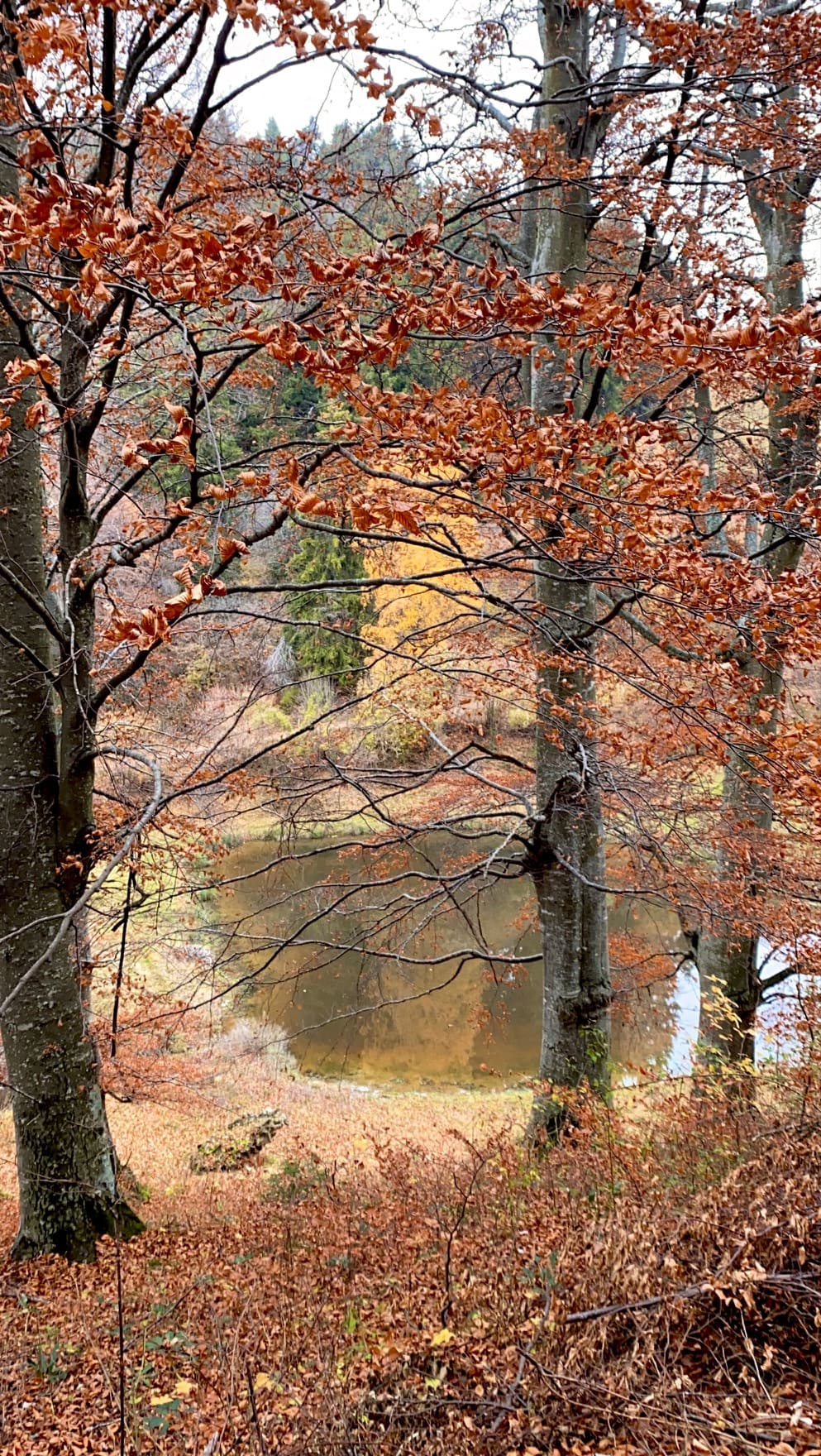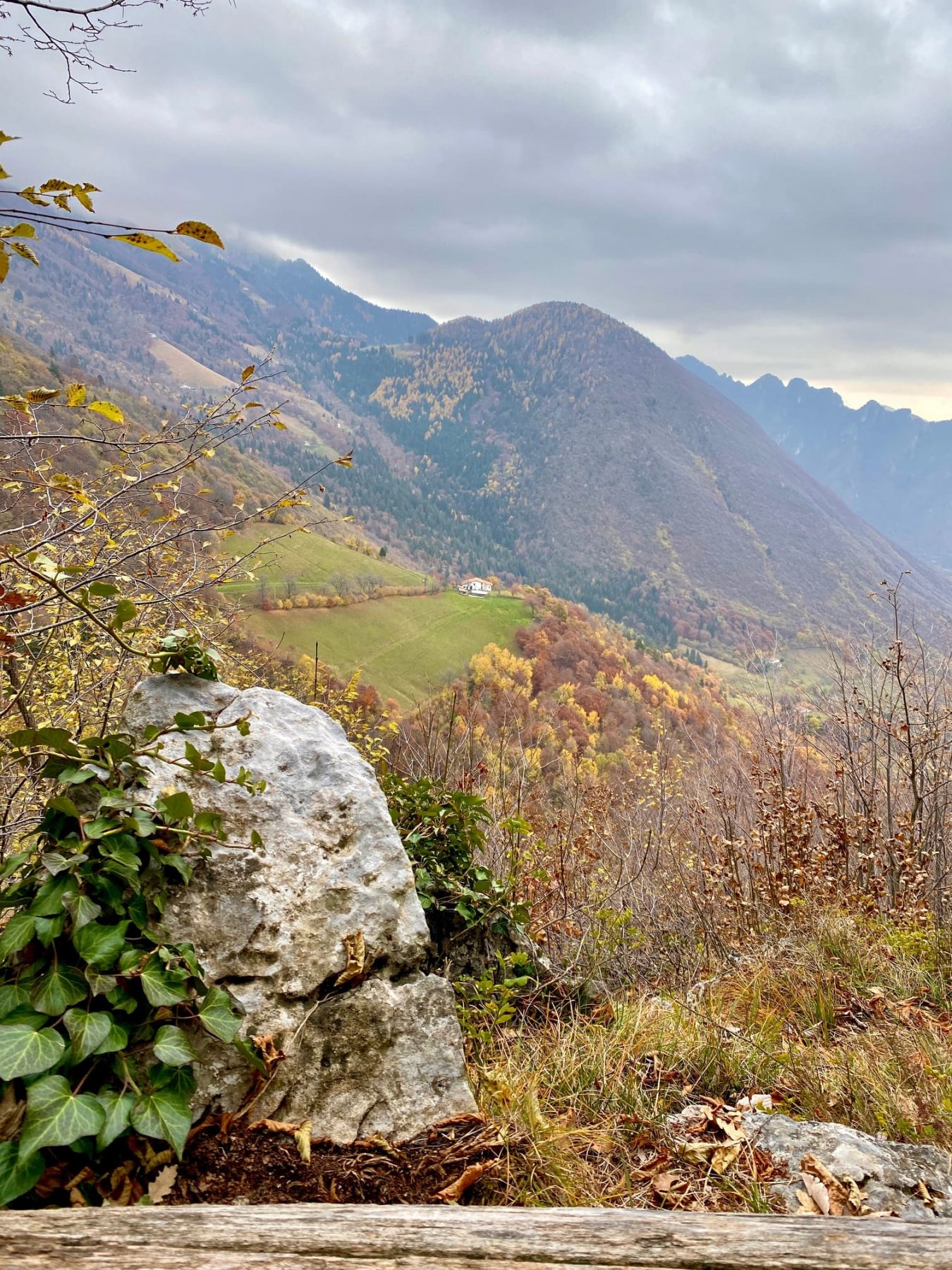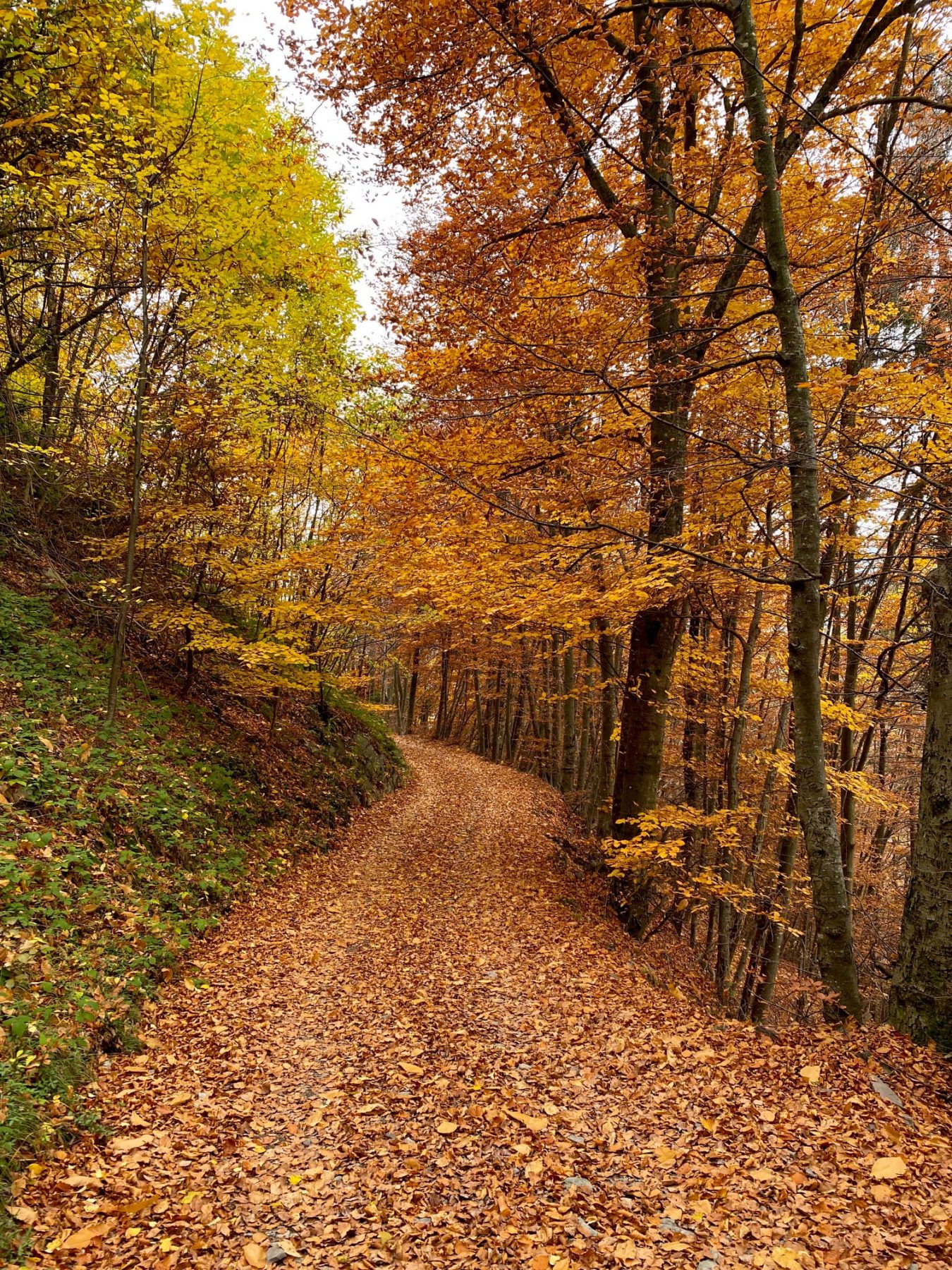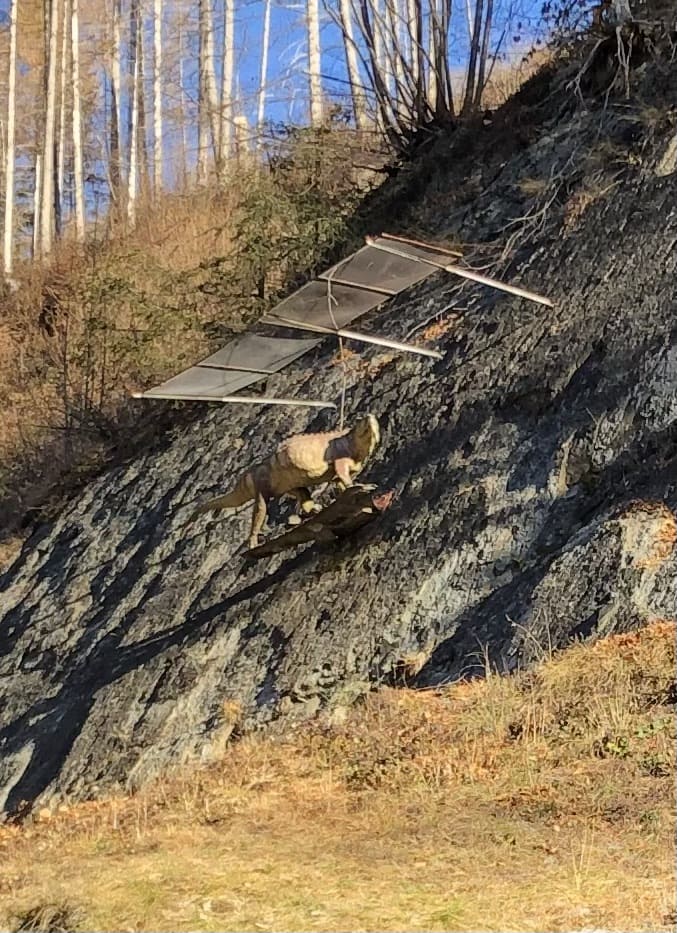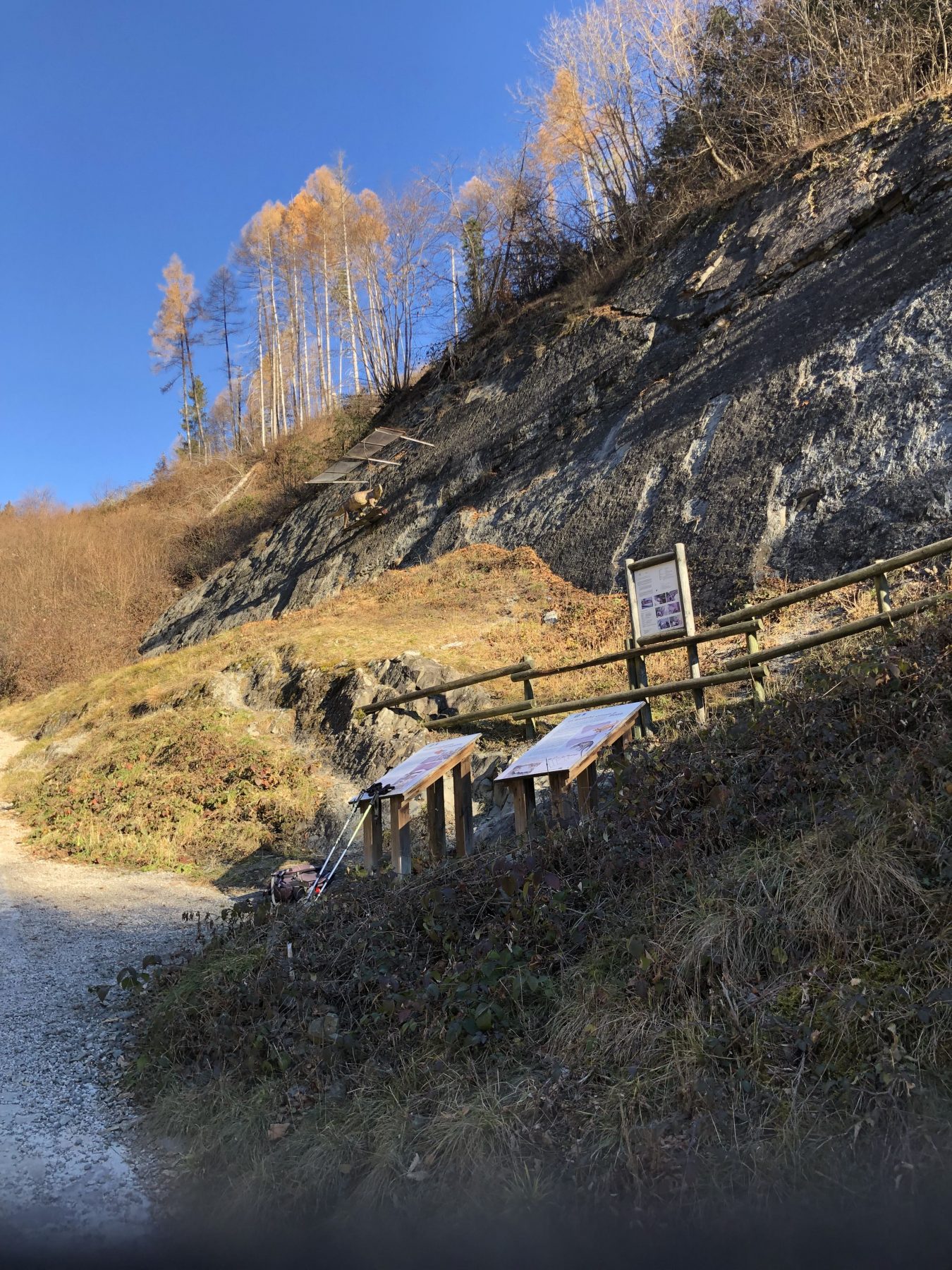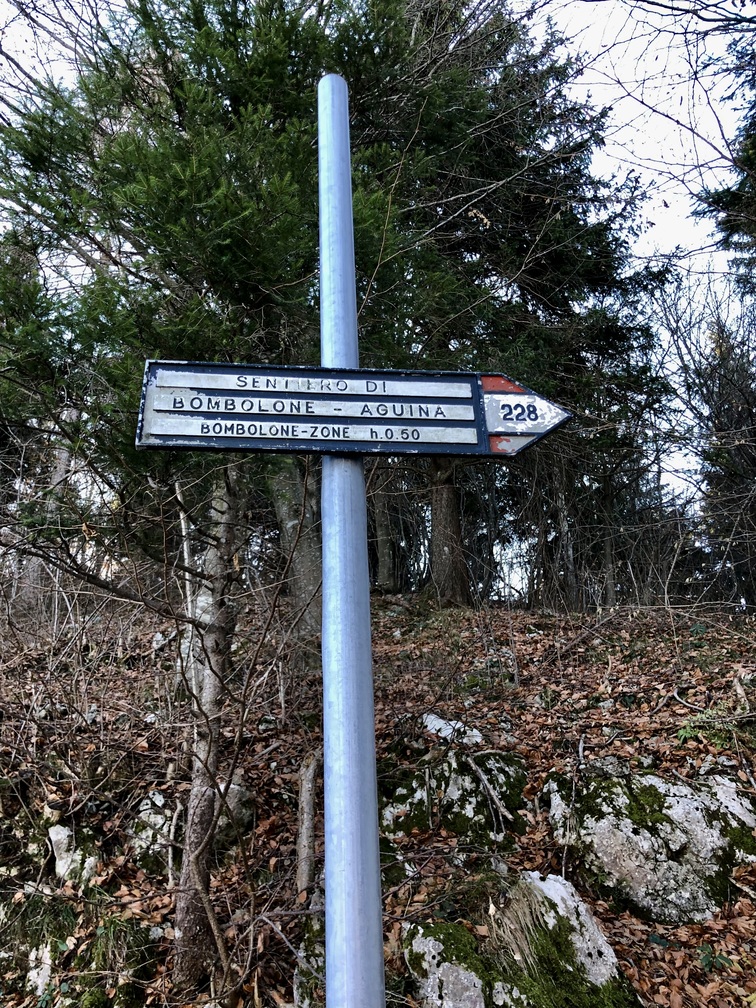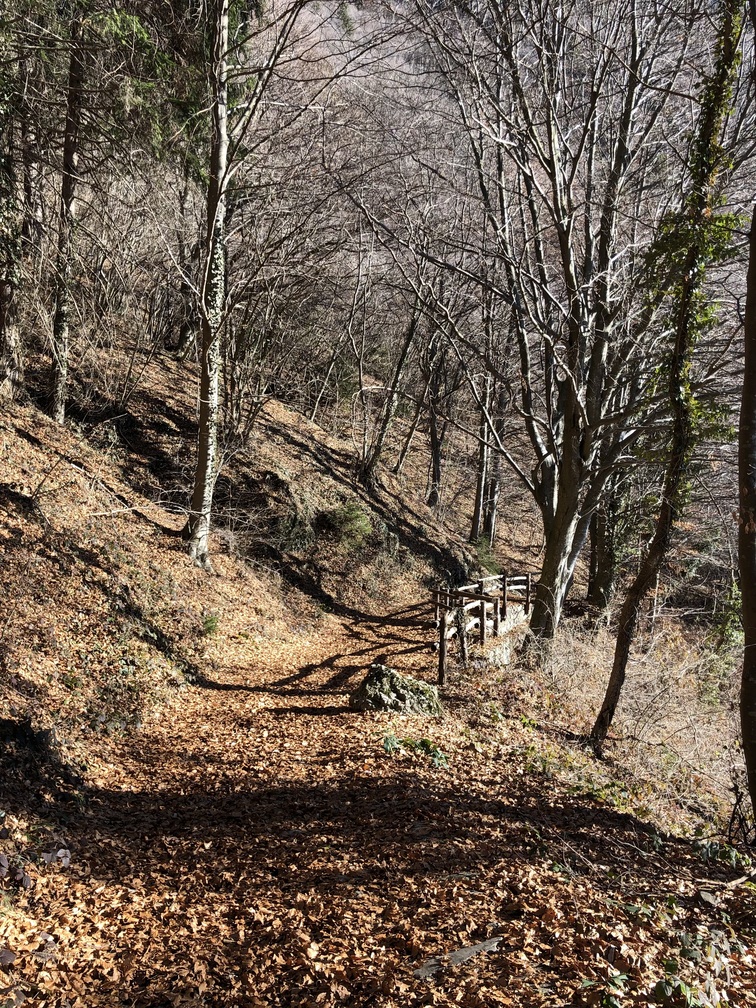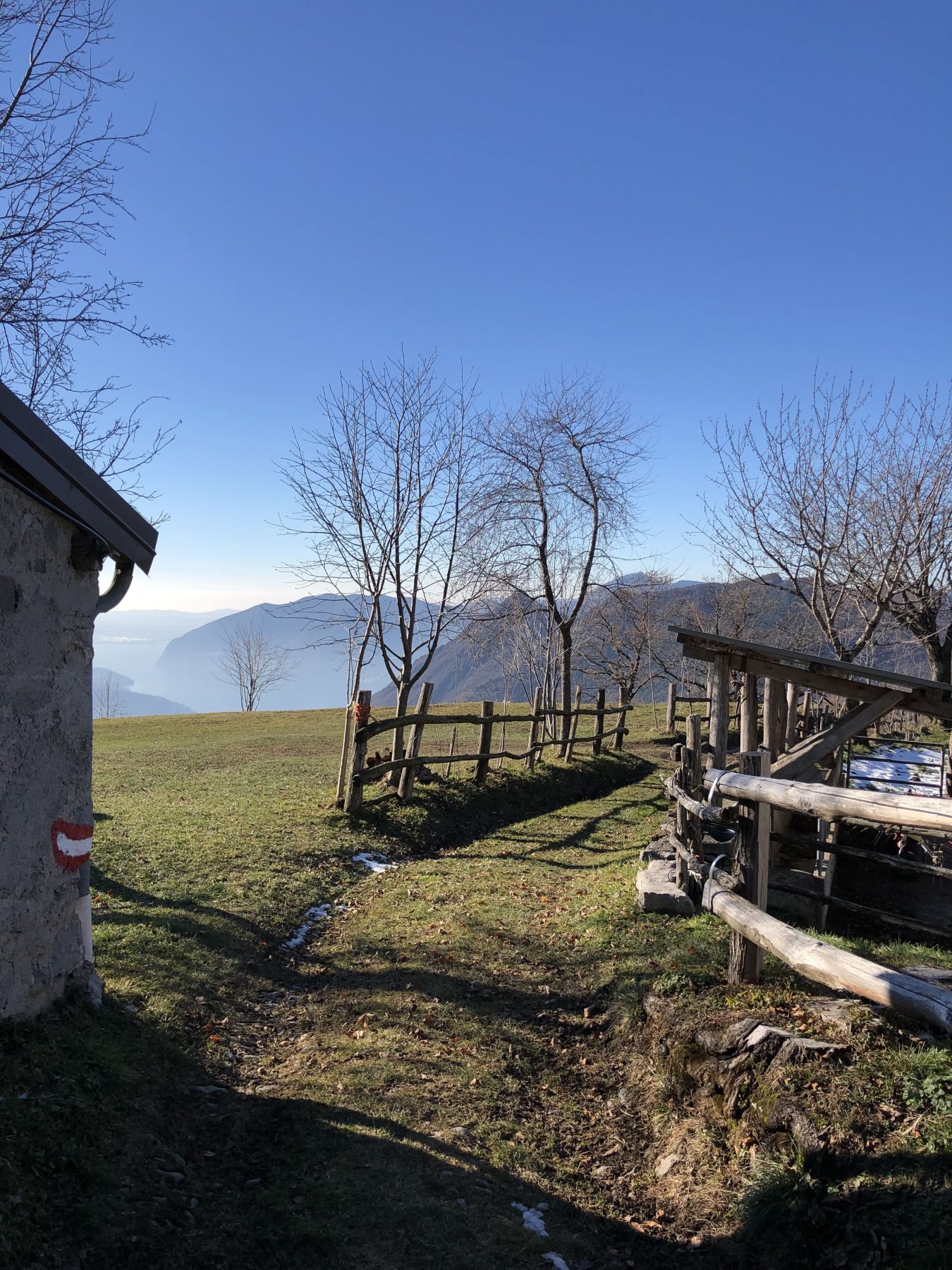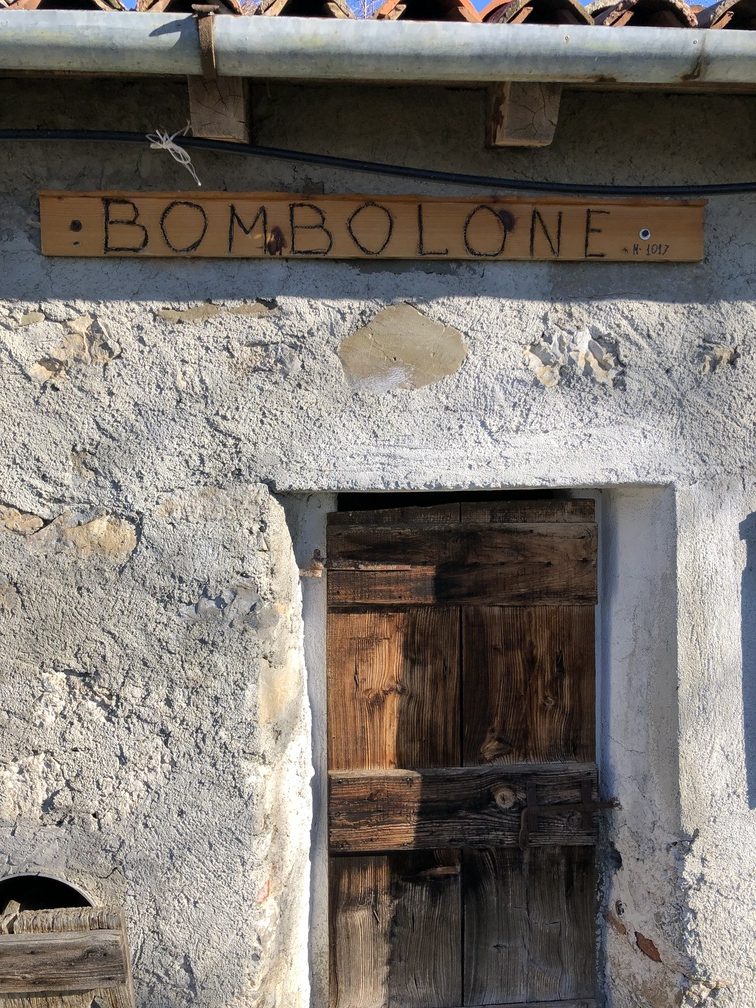 Zone – Monte Aguina – Bombolone – Zone
Simple circular route suitable for everyone, very pleasant in all seasons, particularly fascinating in autumn.
DE – Einfacher Rundweg für jeden geeignet, zu jeder Jahreszeit sehr angenehm, im Herbst besonders faszinierend.
The trail / der Weg
Park the car at Zone's cemetery and go up the mule track. Once at the Conca Verde hotel, take the path of the Antica Strada Valeriana, which you need to follow until you reach the Croce di Zone. Along the way there is a rocky wall formed 220 million years ago, where there are seventy fossil tracks of Archosaurs. The footprints are actually difficult to see, but the place can be recognized thanks to the model of an archosaurus hanging from the rock. Once you reach the Croce di Zone, keep right continuing towards Monte Aguina / Bombolone-Zone, CAI path 228.
You walk for about an hour in the woods, which in autumn is a riot of exciting colours, until an open bar appears, after which you turn right into the meadow and with a U-turn you go back into the woods, a little higher. A sign with the indication "Bombolone – Zone" indicates the continuation of the itinerary. Soon, the path begins to descend and leads to the locality of Bombolone. In half an hour you will be back at Zone's cemetery, which is now on the top right. It can be reached via a small path and you will find yourself back at the starting point.
DE – Nachdem man das Auto das Auto auf dem Friedhof von Zone geparkt hat, geht man den Saumpfad hinauf. Am Hotel Conca Verde angekommen, nimmt man den Weg der Antica Strada Valeriana, dem man bis zum Croce di Zone folgen muss. Entlang des Weges befindet sich eine vor 220 Millionen Jahren gebildete Felswand, an der sich siebzig fossile Spuren von Archosauriern befinden. Die Fußabdrücke sind eigentlich schwer zu erkennen, aber man erkennt den Ort dank des am Felsen hängenden Modells eines Archosaurus. Wenn man das Croce di Zone erreicht hat, hält man sich rechts und fährt weiter in Richtung Monte Aguina / Bombolone-Zone, CAI-Weg 228.
Man wandert etwa eine Stunde durch den Wald, der im Herbst ein buntes Farbenmeer ist, bis eine offene Bar erscheint, nach der man rechts in die Wiese und mit einer Kehrtwende wieder in den Wald zurückgeht, etwas höher. Ein Schild mit der Aufschrift "Bombolone – Zone" weist auf die Fortsetzung der Route hin. Bald beginnt der Weg abzusteigen und führt zum Ort Bombolone. In einer halben Stunde wird man wieder auf dem Friedhof von Zone ankommen, der sich jetzt rechts oben befindet. Man erreicht ihn über einen kleinen Pfad und man findet sich am Ausgangspunkt wieder.
How to arrive and where to park / Anreise und Parkplätze
Follow the signs for Lake Iseo, take the SP 510 – direction Darfo Boario Terme – Zone / Piramidi exit. Continue northwards passing the inhabited centre to arrive at the cemetery.
Free parking at Zone's cemetery.
DE – Man muss der Beschilderung zum Iseosee und die SP 510 – Richtung Darfo Boario Terme nehmen – Ausfahrt Zone / Piramidi. Man fährt weiter nach Norden, vorbei am bewohnten Zentrum, um zum Friedhof zu gelangen.
Kostenlose Parkplätze in der Nähe vom Zones Friedhof.
Book now:
Trust the experience of: