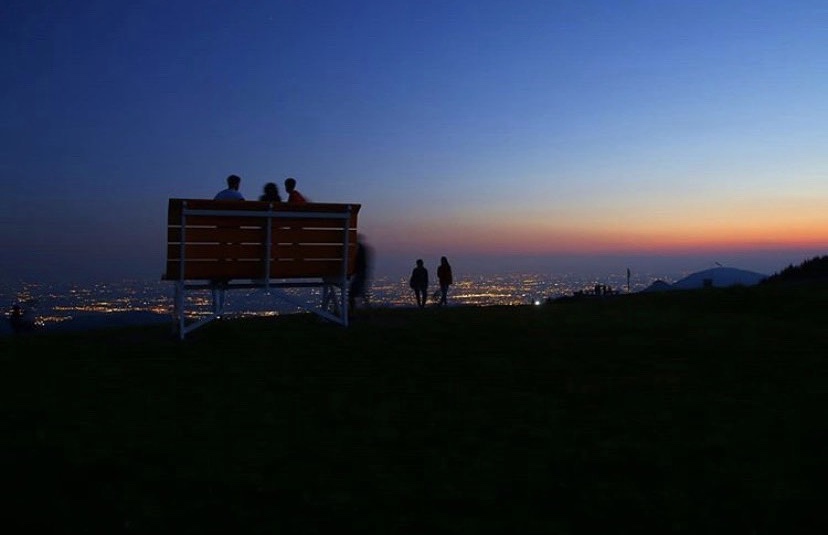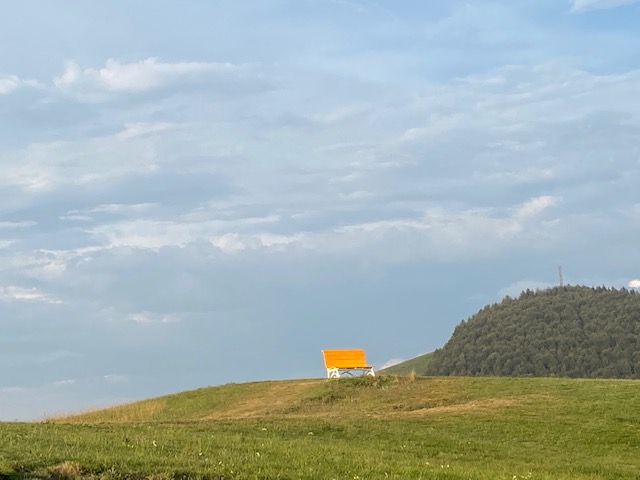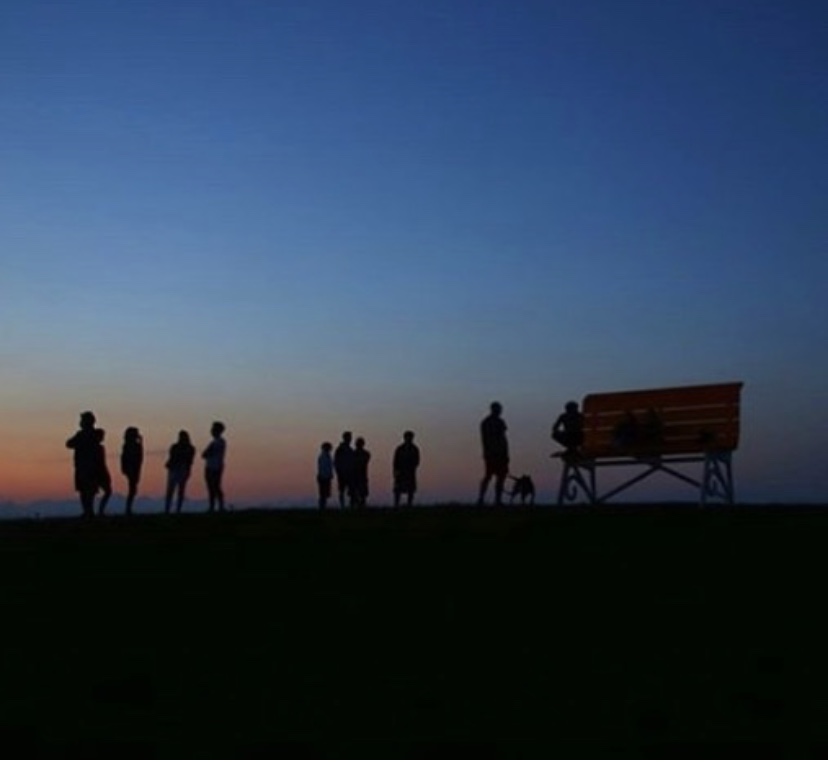 Grone – Colli di San Fermo Big Bench
The project / das Projekt
The Colli di San Fermo "Big Bench" is a yellow and white giant bench. Its colours symbolise daffodils, symbol of Colli di San Fermo. The bench is located near the "Belvedere" platform in Colli di San Fermo, a hamlet of Grone, on an instantly visible mound, in a strategic point between Val Cavallina and Lake Iseo that offers a breathtaking view of the plain.
The installation, created as part of the "Big Bench Community Project" (BBCP) by the American artist / designer Chris Bangle, was made possible thanks to the contribution of local artisans in the area and the idea of ​​Grone's Library. The activities of the BBCP – of an exclusive non-profit nature – include both technical support to those who want to build a new official Big Bench, and collaboration with local craftsmanship to create products inspired by them, which can make a small contribution to the local economy and tourism, in the sign of the positive spirit that the Big Benches bring to the areas in which they are positioned. Part of the proceeds of each sale, will be devolved by the BBCP to the towns involved and will be destined to support the local community.
"We hope to see more Large Benches built to make us feel like children again when we climb on them, and that new visitors will come to this area to enjoy the spectacular view" – Chris Bangle.
DE – Die "Big Bench"  von Colli di San Fermo ist eine gelb-weiße Riesenbank. Seine Farben symbolisieren Narzissen, Symbol von Colli di San Fermo. Die Bank befindet sich in der Nähe der Plattform "Belvedere" in Colli di San Fermo, einem Ortsteil von Grone, auf einem sofort sichtbaren Hügel an einem strategischen Punkt zwischen Val Cavallina und dem Iseosee, der einen atemberaubenden Blick auf die Ebene bietet.
Die Installation wurde im Rahmen des "Big Bench Community Project" (BBCP) des amerikanischen Künstlers / Designers Chris Bangle erstellt. Die Aktivitäten des Big Bench Community Project (BBCP) – ausschließlich gemeinnütziger Natur – umfassen sowohl technische Unterstützung für diejenigen, die eine neue offizielle Big Bench bauen möchten, als auch die Zusammenarbeit mit lokaler Handwerkskunst, um von ihnen inspirierte Produkte zu entwickeln, im Zeichen des positiven Geistes, den die Big Benches in ein bestimmtes Gebiet bringen. Ein Teil des Erlöses jedes Verkaufs wird von BBCP an die beteiligten Städte weitergeleitet und soll die lokale Gemeinschaft unterstützen.
"Wir hoffen, dass mehr Big Benches gebaut werden, damit wir uns beim Klettern wieder wie Kinder fühlen und dass neue Besucher in diese Gegend kommen, um die spektakuläre Aussicht zu genießen" – Chris Bangle.
How to arrive / Anreise
The Big Bench can be reached either by car via the SP79, coming from Sarnico or Grone. Once reached the church of San Fermo, located on the pass, just follow the signs that will take you to Piazzale Virgo Fidelis, where you can park your car. The Big Bench is located behind the Bar Pizzeria al Colle, where you can stamp your passport.
For the more adventurous, the Bench can also be reached through CAI paths:
– Path 613: Strada Verde Path, with an altitude difference of 1000mt.
– Path 614: from Sant'Antonio with a difference in height of 600 meters.
DE – Die Big Bench kann entweder mit dem Auto über den SP79 von Sarnico oder Grone aus erreicht werden. Wenn man die Kirche San Fermo erreicht hat, die sich auf dem Pass befindet, folgt man einfach den Schildern, die zur Piazzale Virgo Fidelis führen, wo man das Auto parken kann. Die Big Bench befindet sich hinter der Bar Pizzeria al Colle, wo man den Pass der Big Benches abstempeln kann.
Für Abenteuerlustige kann die Bank auch über CAI-Pfade erreicht werden:
– Pfad 613: Strada Verde, mit einem Höhenunterschied von 1000 m.
– Pfad 614: von Sant'Antonio, mit einem Höhenunterschied von 600 Metern.
Useful info / nützliche Info
The Big Benches Passport is sold at the Bar pizzeria al Colle. It is possible to collect the stamps of each bench on the BBCP passport; each stamp shows the logo of the Big Benches and the name of the town in which they are located.
DE – Der Big Benches Pass wird in der Bar Pizzeria al Colle verkauft. Es ist möglich, die Stempel jeder Bank auf dem BBCP-Pass zu sammeln. Jede Briefmarke zeigt das Logo der Big Benches und den Namen der Stadt, in der sie sich befinden.
Book now:
Trust the experience of: